Newly-formed Synclavier Digital has announced Synclavier Go! and Synclavier Pocket!, recreating the Synclavier II Digital Synthesizer's sound engine for iPad and iPhone/iPod Touch iOS apps.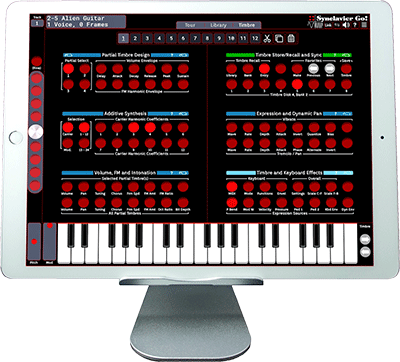 Synclavier Go! Is the inaugural iPad offering from Nova Scotia-registered Synclavier Digital, taking the baton from New England Digital (NED) after bankruptcy in the 1990s. Company co-founder Cameron Jones (co-inventor of the Synclavier) bought the intellectual propriety rights to the NED synthesisers and digital audio systems sharing the name. Having served the small number of remaining Synclavier owners happy with minor maintenance and upgrades in the intervening years, he has now porting the code and firmware for the Synclavier II DSP engine to C Code capable of running on Windows and MacOS. With his support, Arturia's Synclavier V was released in its own right in 2016.
Although the Synclavier V's GUI worked well for a mouse-driven VST instrument, it is removed from the tactile operation of with the Synclavier II Digital Synthesizer – the original instrument's intuitive panels of red backlit buttons and iconic control knob were key elements in the instrument's use for speedy sound and music-making. Those intuitive panels were almost a touchscreen way before touchscreen technology had been invented.
Synclavier Go! is an authentic re-creation of the Synclavier II's FM Digital Additive synthesizer for Apple's iPad. It includes an inbuilt tour that describes how all of the features work on a panel-by-panel basis. Super-efficient code coupled with the processing power of an iPad, means that voices are now theoretically limitless. All of the original FM and additive synthesis presets (more than 900 of them) are included in Synclavier Go!'s library with every parameter being user-tweak-able. Synclavier Go! supports 12 partials, allowing layering of sounds with unlimited frames, so sounds can evolve over time.
Synclavier Pocket! is an iPhone-based Synclavier with the same panels and tour information, but without the ability to save timbres in a custom library without the in-app purchase that enables this.
Synclavier Pocket! supports three 'Disks' of authentic Synclavier sounds; up to four Partial Timbres; theoretically unlimited voices (depending on iPhone/iPod Touch processing speed); mono-timbral Midi in for keyboard, pitchbend wheel, and other interfaces; Audiobus and Ableton Link support; audio out up two 24-bit stereo at 44.1kHz or 48kHz through headphone jack/lightning or USB; and a built-in two-octave touch keyboard.
'Forty years ago, Sydney Alonso and I invented a musical instrument that revolutionised the music industry,' Jones says. 'Artists of Frank Zappa's generation spent hundreds of thousands of dollars on studio equipment to help them realise their musical ideas. Today we are witnessing another landmark in the release of iOS versions of the much-loved, much-coveted hardware. What happens when anyone with a modest budget can buy a Synclavier? I don't know, but I can't wait to find out what the new breed of creative people do with our invention.'
More: www.synclavier.com