Strymon has announced its Volante Magnetic Echo Machine, a stereo multi-head delay stompbox that also offers a looper and vintage spring reverb, with powerful sound-sculpting controls.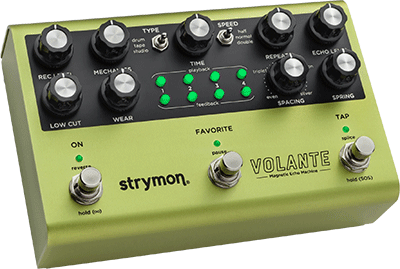 Volante features magnetic drum, tape, and (reel-to-reel) studio echo as a stereo multi-head delay that also offers a looper and vintage reverb. Each machine model incorporates saturation and soft clipping of magnetic media when driven hard, and real-time control of Mechanics, Wear, Spacing and Low Cut.
At the centre of Volante's control surface are four delay playback heads with individual playback and feedback controls. Each head's playback level can be set for full volume, half volume, or off, and each head can be switched in or out of the feedback circuit. Heads can be switched into the feedback circuit that are not activated for playback, putting the creation of complex rhythmic patterns, as well as reverb-like atmospheric textures.
The Rec Level knob controls the gain of Volante's analogue class-A JFET input preamp circuit, sending a hot signal with analogue warmth to the record head for any amount of saturation.
Some vintage multi-head tape echo machines' heads were not evenly spaced, which created interesting sonic interactions when multiple heads were set to repeat. Head spacing is continuously variable for the entire travel of the Spacing knob, morphing between the available even, triplet, golden and silver settings – the latter two ratios respectively realising dense, non-overlapping echoes and non-overlapping echoes biased toward the quarter note.
The pan of each head can be set individually for spacious, multi-head stereo delays. By default, all heads are panned centre, creating a pleasing psychoacoustic stereo image.
Volante's Speed switch selects the speed of the recording media, allowing any of its three magnetic echo machines to run at half, normal, or double speed; fidelity is higher at higher speeds, while lower speeds result in warmer repeats and more pronounced effects from mechanical and media irregularities introduced when turning up the Mechanics knob. Delayed psychedelic feedback sounds can be used in Echo mode by pressing and holding the footswitch to activate infinite repeats; regardless of the current Repeats setting, Volante will crank up echo regenerations for quick-building delay feedback.
Volante can create dynamic loops that degrade and evolve. Change direction at the touch of a (reverse) footswitch. Press pause for a mechanical tape stop effect. Change the speed of the loop and simultaneously change the pitch in octave increments. Find an inspiring sound in Echo mode, and all echoes remain intact when engaging SOS (Sound On Sound). Once the loop has reached a perfect state of mutation, engage Infinite Repeats to stop further degradation, creating an infinite loop while disengaging the loop record head. While in Sound On Sound mode, pressing the footswitch results in the entire loop playing in reverse.
With Midi control of every parameter plus 300 preset locations, Volante transmits and receives Midi over 5-pin DIN, USB, and its Exp (expression) jack. Connecting an expression pedal allows all settings to morph through the expression pedal's full range.
A dedicated Inst/Line input level switch ensures that Volante can work with a variety of input sources. The line input also allows Volante to be used as a send effect or insert effect in the studio.
More: www.strymon.net