Audified has announced MultiDrive Pedal Pro, extending its virtual stompbox lineup with a bundle of overdrive, distortion, fuzz and boost plug-ins for DAW recording.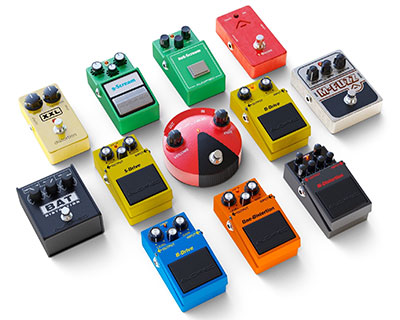 The MultiDrive Pedal Pro plug-in bundle sees Audified engineers simulate 12 legendary effect pedals, effectively representing the company's third generation of stomp box models made with totally new modelling technology.
Among them, the 808-Scream is based on the Ibanez TS-808 Tube Screamer, a guitar overdrive pedal released in the late seventies with a mid-boost popular with blues and rock guitarists. It has since been used by countless guitarists to create their signature sound, remaining one of the most successful, widely copied, and 'modded' overdrive pedals in the history of the electric guitar. The 9-Scream is based on another overdrive guitar pedal from Ibanez – the TS-9 Tube Screamer.The so-called '9-series' between 1982 and 1985, with the TS-9 Tube Screamer being almost identical, internally, to the TS-808 Tube Screamer, but boasting a different output, resulting in a brighter, less smooth sound.
B-Drive is based on the Boss BD-2 Blues Driver, delivering the sound associated with great blues guitar. This popular pedal provides instant access to the kind of warm overdrive and emotive distortion usually reserved for 30-year-old tube amps. O-Drive is based on the now-legendary Boss OD-1 OverDrive. Seventies-vintage artists mostly made use of a fuzz distortion sound. It features an asymmetric circuit where the positive and negative halves of the waveform are not distorted equally.
S-Drive is based on the Boss SD-1 Super OverDrive, which has gone almost unchanged from its inception in 1981. Its asymmetric overdrive circuit responds well to the force of a player's picking, producing a dynamic and smooth overdrive effect well suited to any type of rock music. Many guitarists also use the SD-1 Super OverDrive as a booster pedal for valve amplifiers.
One-Distortion is based on the Boss DS-1 Distortion introduced in 1978, delivering hard-edged attack and smooth sustain that has been a staple of players for generations. The DS-1 Distortion is the top-selling Boss compact pedal of all time, and its original, unchanged design continues to inspire the creation of great music worldwide.
Bat-Distortion is based on Pro Co Sound's Rat, popular in the early eighties. As a primary distortion device, it excels at arena rock rhythm tones and soaring leads, but its true beauty lies in its versatility.
XXL-Distortion is based on the Distortion+ pedal originally designed in the Seventies by MXR Innovations. It is perhaps best known for its crunchy heavy metal sound featured by Randy Rhoads in his work with Ozzy Osbourne. The Distortion+ delivers everything from cool overdriven blues tones to huge Eighties hard rock distortion.
M-Distortion is based on the MT-2 Metal Zone, one of Boss' most popular pedals. Duly delivering a wide range of distortion sounds with three-band EQ and strong sustain, it is capable of some of the most over-the-top, insane distortion tones in the world – with huge mids and lows, alongside an ultra-saturated sound.
F-Fuzz is based on Jim Dunlop's Fuzz Face, mainly used by electric guitarists and also some bass players. Designed to produce a distorted sound from an electric guitar, a sound often referred to as 'fuzz' – which was sometimes achieved by accident earlier through broken electrical components or damaged speakers, this particular Fuzz Face distortion is constructed to vintage specs, featuring the original Germanium PNP transistor design for a rich, creamy fuzz sound.
M-Fuzz is based on the Big Muff Pi (π). Produced in New York City by Electro-Harmonix, along with Russian sister company Sovtek, this fuzz box is primarily for use with electric guitar, but also used by bassists due to its squeaky frequency response. Hendrix and Santana were among the first to get a piece of the Pi, so-to-speak, and the Big Muff – as it has become simply known – has been defining the sound of rock guitar for more than 40 years.
T-Booster is based on the Brian May Treble Booster, an effect unit used by guitarists to boost volume and especially the high end of their tonal spectrum, which was particularly popular during the sixties.
More: https://shop.audified.com/products/multidrive-pedal-le