Strymon has made its first move into the Eurorack modular market with the Magneto Four Head dTape Echo & Looper module.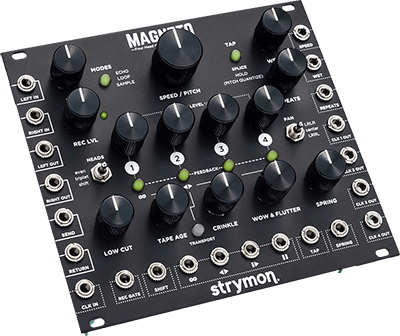 'We were seeing some musicians using the Strymon pedals in their Eurorack set-ups, and El Capstan [dTape Echo] seemed to be a popular choice, where people would place it at the end of their signal chain and sweeten up their signal with some nice tape delay sounds, so it seemed like a good place to start,' says Pete Celi, DSP and Sound Designer at the company he co-founded with Dave Fruehling and Gregg Stock. 'We knew that by introducing something in the Eurorack format that would give us the ability to really expand on the capabilities and feature set.'
Magneto is a stereo multi-head tape delay that also functions as a looper, phrase sampler, vintage spring reverb unit, phase-aligned clock multiplier, chaotic oscillator and zero-latency sub-oscillator, with extensive CV I/O in a 28HP-rack footprint.
In its research, Strymon studied and has recreated the saturation and soft clipping of magnetic tape when driven hard, and provided real-time controls for Tape Age, Tape Crinkle, and mechanical wow and flutter. This is combined with a spring reverb, a combination found in certain tape echoes.
Magneto is built around the powerful Analog Devices Sharc ADSP-21369 processor, providing a 366MHz core instruction rate, and 2.4 Gigaflops of peak performance. It models a tape-voiced delay machine with one record head and four playback heads, offering a dTape algorithm (nuanced recreations of vintage tape echo systems); Echo, Loop (sound-on-sound looper), and phrase Sample modes; varispeed algorithm with dynamic machine mechanics (8:1 speed range); input record level (for clean reproduction to warm, fat saturation); self-oscillation (for tone generation); independent spring reverb; dedicated control over tape mechanics, machine health, and tone; transport controls (buttons and CV inputs) for real-time performance options; individual playback head level controls; three stereo head panning options (including user-defined custom panning); phase-aligned clock out CVs synched with clock in CV; and 15s delay/loop time at maximum speed/two minutes at minimum speed.
'We've got a good library of effects that we think can be good starting points to develop further and turn into things that are suitable and fun and add value and enhancement to people's experience and experimentations in modular,' Celli says.