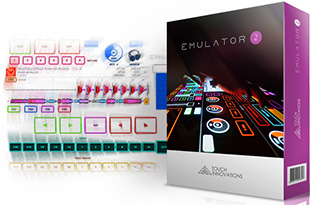 Not to be confused with E-mu Systems' hardware sampler, Touch Innovations' Emulator 2 customisable multi-touch controller software for any Midi application is now available under a single-license purchase – the US company having opted out of the unpopular subscription model by popular demand.
The application allows the creation of controllers for MIDI applications through a multi-touch interface – including all standard objects like sliders, knobs, modulation pads, encoders and buttons, with every component fully customisable.
Fully redesigned and re-engineered for flexibility and ease, Emulator 2's intuitive editor for Mac (OS-X 10.11 Yosemite or higher) and Windows (8, 8.1, or 10) allows custom interfaces to be created from scratch or chosen from pre-made templates in the editor. Elsewhere, new capabilities includee a full-colour palette; Midi learning; OSC (Open Sound Control) — a protocol for networking sound synthesisers, computers, and other multimedia devices for purposes such as musical performance or show control; and standard keyboard commands.
Emulator 2 effectively places the software and any touch controller on the same interface using proprietary technology to enable and merge the native interface of any software with the touch controller. Cleverly, by creating 'holes', it allows users to port and stream elements of the underlying software that they can then resize and move.
A single-license for for Emulator 2 costs US$59. Users who create their own touch template using Emulator 2 can sell their work online via Touch Innovations' Template Library.