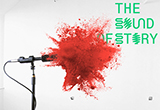 I once read that smell is our strongest associative sense. I've since tried to establish the relative ability of our other senses to evoke memories – most recently after hearing the award-winning Notes on Blindness discussed at The Sound of Story conference.
One of the film's producers told the story of its making and its reliance on sound… but let's start at the very beginning.
This is the third edition of Lighthouse's The Sound of Story conference, which saw it grow to three days and dedicate one to Women In Sound, ahead of a day each for symposia and workshops. As in previous years, it boasted a varied and engaging list of speakers and was well attended. Among the presentations was Mike Brett's on Notes on Blindness, documenting the onset of theologian John Hull's blindness – a film built on Hull's own extensive audio diary of his experience. The film and its making are truly remarkable.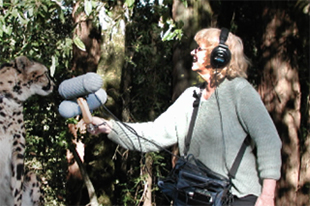 Brett's was not the first talk, however. That fell to Ann Kroeber, whose work as a sound recordist, sound designer and effects editor is extensive, to put it mildly. Now 70, the partner of legendary sound designer and sound editor, the late Alan Splet (a close associate of David Lynch who worked on Eraserhead, Dune and Blue Velvet among other films) her presentation began with her show reel. The list of clips was as long as it was impressive – that her father forbade her to touch his hi-fi and that she still regards herself as a technophobe speaks strongly of her achievements and the barriers that continue to face women in many aspects of filmmaking and sound recording today.
Kroeber began working at the UN film department in New York, and was pushed into a trip to record a local Chinese festival with a Nagra reel-to-reel. Intimidated by the occasion and the technology, she found a new world waiting for her once she put on the headphones and aimed a microphone. 'I found it intuitive,' she recalls, the wonder and enthusiasm still evident after many years.
She moved from NYC to LA, where she met Splet while working on Carroll Ballard's film version of The Black Stallion, and came to the UK to work on The Elephant Man. At a BBC show she saw contact mics in use for the first time, and took a further step into her world of sound when she contacted Arnie Lazarus (inventor of the Flat Response Audio Pickup) who built piezo mics for her. Seeing 'possibilities in sound design' she made use of FRAP contact mics on Dune and also put out a CD called Common Sounds Heard in Uncommon Ways. The audio examples she played to The Sound of Story audience will undoubtedly have them thinking.

'Sound effects can have such an effect on your emotions,' she stressed. 'They can draw you in, in ways that dialogues can't.'
Kroeber attributes some of her early enthusiasm for sound recording to having used an analogue recorder, and being able to experiment with tape saturation and distortion. 'Digital drives me crazy,' she confessed.
A performance by the Kronos Quartet using sounds sourced from space radio telescope exploration gave her a closing observation – that the sounds she had recorded for Dune from an 'internal' world of contact mics bore remarkable similarities to those found in deep space.
Making Notes
'It started with a box of cassettes,' says Mike Brett. It's the story of Notes on Blindness, and it's complicated. 'The core material is audio.'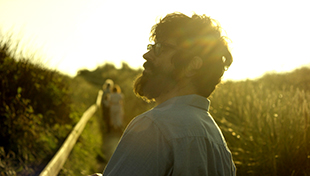 A book (Hull's Touching the Rock) and a couple of film 'shorts' provided precursors that helped develop the thinking behind Notes, which has secured praise and awards in equal abundance. With Joakim Sundström as sound designer/supervising sound editor (a speaker at the first Sound of Story), and directed by Peter Middleton and James Spinney, the script 'looks banal,' according to Brett. 'You have to hear his voice…'
And that is where the film began – with a 90-minute soundtrack against which it was filmed, using material from the cassettes as both dialogue and narrative. Throughout, the voices you hear are those of John Hull, wife Marilyn and their family. What you see is Dan Skinner, Simone Kirby and cast lip-syncing to the recordings… no ADR, just the performers. 'They had to breathe when they breathe, sniff when they sniff and stammer when they stammer,' Brett explains. A feat made yet more difficult by Hull's asthma.
The rehearsals began with iPods of the soundtrack issued to the cast a month before shooting, allowing them to live with the characters and story. 'It was interesting,' Brett says, 'he spoke along to the dialogue while she mouthed the words. It was also difficult for Dan because he was lip syncing with his eyes closed, depriving him of two of an actor's greatest assets.'
Aware of the criticism attracted by Daredevil in 2003, where a film with a blind central character was poorly supported for blind audiences, the thinking behind the release formats for Notes was rigorous. As well as the 'regular' soundtrack, three more were assembled – an 'enhanced' version uses additional narrative from the cassette archive and two AD (Audio Description) versions offer a choice of narrators, one of them actor Stephen Mangan. There is also a movie reading app being explored, using Shazam-style sound recognition to synchronise audio playout to any cinema screening. This would allow sight-impaired cinemagoers to bring their own AD to regular film showings using a toolkit that is planned for other filmmakers.
Working with Arnaut Colinart of AGAT Films, Brett has also helped produce a Virtual Reality version of Notes. 'If you're a sighted person, how do you understand John's perception of acoustic space?' he asks.
Turning the tables on the sighted, his answer is a VR experience to accompany the Notes soundtrack that offers 'a visual metaphor'. Demonstrated by a trailer, this builds a visual representation of the audio landscape in response to the sounds that are in play. Difficult to describe, it is quite amazing to see.
'Starting with sound has made us better judges of what makes a good film,' Brett observes.
Sound and silence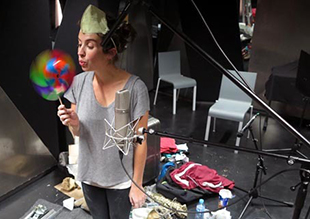 Building pictures from sound raises the question: what does the sound-making itself look like? Foley artist Sue Harding gave a demonstration of both to the Sound of Story – confessing that she never thought she would be seen doing it. 'Foley is about performance – you've got to make people believe,' she explains, cutting an amusing figure in her exaggerated walks across the stage in various sound characters. To illustrate the Foley artist's art, she shares props, pictures, insights and a résumé of her 12 years spent working on films such as I, Daniel Blake, The Imitation Game and Les Misérables, and countless TV series, including Sherlock: His Last Vow, which secured her an Emmy for Outstanding Sound Editing for a Miniseries.
Giving an insight into how the sounds we hear sometimes come from unlikely sources, she takes us on a tour of sound-making using celery and soft fruit ('we like a bit of violence – we want you to feel the pain'), shoes ('shoes are like instruments to us'), clothes ('baddies wear leather'), stable tack, plies of boxes and an Uzi.
'If, as a listener, you're aware it's Foley,' we've failed, she warns.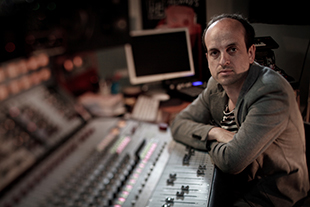 Following Harding, confrontational electronic musician and sound activist Matthew Herbert set a very different tone. Challenged by interviewer Amy Raphael, he explains that he has come to dislike recording studios because they are designed to be devoid of sound.
Instead, he has found a series of unlikely locations and materials that become part of a recording in more than obvious ways. 'You have to ask yourself what you are doing, and ask questions of the audience,' he says. 'I started making music to help change the world; if you're simply making decoration, you're another part of the problem.'
The son of a BBC sound engineer, Herbert has recorded in the British Museum but been refused permission by the Houses of Parliament on the grounds of bringing the Houses into disrepute. 'The Government is worried about art,' he concludes. 'They were worried about a piece that would have consisted only of the sounds of the corridors and the building…
'Music has undergone a revolution,' he says. 'Mozart and Thelonious Monk used the same tool, but it took us 200 years to get to jazz. Now we've moved from representing things with musical phrases to using sounds themselves – hearing the materials of the world deconstructed.'
This would certainly include his 2013 album The End of Silence, which uses a five-second sample of a bomb explosion in Libya (relayed to him via phone) as its sole building block. 'People died in the making of The End of Silence,' he asserts, 'and yet it was reviewed alongside the other albums released that week.'
He asks questions of sound: what it is, how we experience it, what is the significance of silence. He leaves those same questions with us.
Eastern Bloc to Western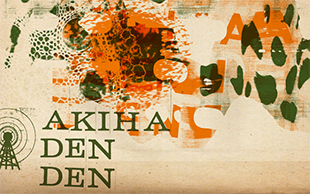 It took a while to get inside the world that writer/director Neil Cargill and musician/sound designer Simon James had come to Sound of Story to discuss.
Having met while working on a commission that followed a day in the life of a rubbish skip presented in the form of a natural history programme, the pair (working remotely from each other) pitched various ideas to the BBC before coming up with Akiha Den Den as an independent production. Or a 'radio drama meets audio art meets waking dream', as they describe it.
'I didn't want it to sound like anything I'd heard before,' says Cargill. 'That would have been difficult to do with a traditional broadcaster – we wanted to have the freedom to experiment.'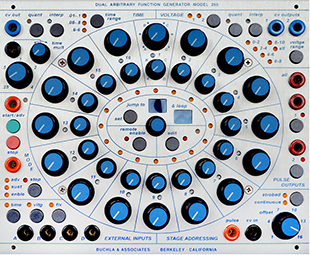 And experiment they have. With Cargill writing the script but keeping Jones largely in the dark about the storyline, the audio brief was impenetrable. It was inspired in part by Cargill's early life in a remote fishing village, where he tuned into the world's airwaves using a Perdio transistor radio. Alongside numbers stations and other short wave intrigue, he found Radio Berlin International, a propaganda station transmitting from East Berlin, and began corresponding with it – later to discover himself on file in the BBC's secretive Room 105 as possibly subversive.
Sharing short wave radio as a point of reference, James set to work on the characters and sounds for a six-part series centred on the voice of a girl trapped in an abandoned amusement park heard only over radio.
'It's meant to sound a bit broken, and challenging to listen to,' he says, having recorded, created and processed sounds using a Buchla modular synthesiser system and 'dirty tape' – a cassette that had been deliberately creased and damaged before being used to bounce sounds off a Tascam Portastudio.
'There are five characters in the plot of Akiha Den Den, with sound as a sixth… it couldn't exist without the sound.'
The final speaker in the symposium was Paul Davies, a supervising sound editor and sound designer with 20 years' film and TV work to his name.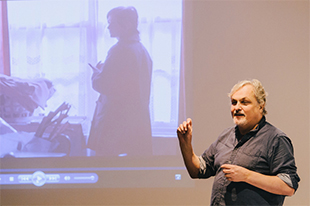 Having bought an early analogue synthesiser, Davies found himself listening to the likes of John Cage, Karlheinz Stockhausen and Cabaret Voltaire, and more interested in organising sound – and realised that 'what I was interested in musically could be put to use in film sound'.
Having set up a recording studio with a friend, he attended the National Film School and embarked on John Maybury's Love is the Devil (a study of the life of artist Francis Bacon with music by Ryuichi Sakamoto) as his first commission.
Moving on to Dennis Weinreich's Videosonics company, he experimented with 'multilayer immersive environments'. Clips of Lynne Ramsay's Ratcatcher and John Hillcoat's The Proposition western (music by Nick Cave) ably demonstrated the ways in which he has exploited sound to specific ends – layering electronic drones under a traditional score in Anton Corbijn's The American, when told to view a modern assassin story as a western, for example.
Having opened his presentation with a clip from Eraserhead, Davies discovered from Ann Kroeber that Francis Bacon was David Lynch's biggest inspiration – and the day of stories had come full circle.
This edition of The Sound of Story counted a good proportion of women in its audience – as in previous years. Supported by Creative Skillset and AMPS (Association of Motion Picture Sound), the day set aside especially for them was hosted by Swedish Sound Designer Anna Bertmark, and had Ann Kroeber, freelance sound editor/ADR mixer/re-recording mixer Jo Jackson, sound mixer/production sound recordist Nadine Richardson, freelance sound editor Catherine Hodgson and production sound mixer Judi Lee-Headman as its speakers.
See also:
More: www.lighthouse.org.uk