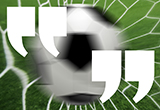 My local pub has a split personality. Or, maybe, it's more like a secret identity – a single location but with two roles in life.
For some of us, it's a friendly place where we can go to talk, laugh and read, and with ready access to music for any occasion or discussion. For others, it's a fully-fledged sports bar, with access to all the required TV channels, and comfortably more screens than it has walls. And that is where our story starts...
Like Burnand and Sullivan's Cox and Box, the two should never meet. Common ground for conversation would be small (as is floor space on a busy sports weekend), sound levels are an order of magnitude apart, and drinking patterns contrast in ways you really wouldn't expect.
Recently – surrounded by big screens showing two concurrent international rugby matches – I watched three football supporters as they 'watched' football. In a real-world interpretation of broadcasters' off-tube model, and against the noise of the rugby, they were creating their own commentary by following the match on several smartphones and a tablet, all contributing what they were able to access.
Between them, they had action, text commentaries, match stats, betting and even a little live action covered.
One phone had the William Hill website up, a second (the one with the broken screen – there has to be one) had the BBC Sport website and a third was showing FotMob, a paid app from Norwegian developer NorApps. Accompanying these was a 'dirty' tablet, illegally and intermittently running overseas feeds. I offered the Live Score app on my own phone, to provide news from the other games being played. It was a revelationary moment.
There were delays between the different feeds, of course – the William Hill site was necessarily the most current, as it is a gambling service – but they were not sufficient to disrupt the mission. Between them, my impromptu team worked up an aggregated commentary made possible by 'second screen' viewing.
When researching the higher points of on-line news dissemination ahead of the launch of Fast-and-Wide, I sat down with a senior guy from Reuters to get his perspective. The key words I gained from that meeting were 'speed' and 'aggregation'. What I had to learn from one of the world's leading news agencies, a bunch of soccer fans had worked out for themselves – and without any prior planning or discussion. That, for me, is as good an indicator of the present state of mobile technology and user understanding as you could ask for.
I can't remember the outcome of the game. Can't name any of the players. Can't even name the team that were playing my little clique of Sunderland supporters. I'm not even sure what I was doing in the pub during sports primetime. But my understanding of the face of sports broadcasting has changed as a result.
If you didn't already, you now know that I'm not much of a football fan. But with the England-India cricket test series currently being broadcast very early in the morning from the subcontinent, I'll be knocking on the door of the house of mercy well before opening hours again shortly.