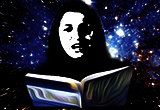 Already resigned to its role of 'poor relation' to video and film, sound has recently seen new terminology further challenge its dignity. Locked film reels are increasingly being replaced with ones that are 'soft locked' or 'parked', giving the sound team a moving target.
A recent conference on sound for picture saw a series of high-profile speakers turning this to their advantage, among other insights, however…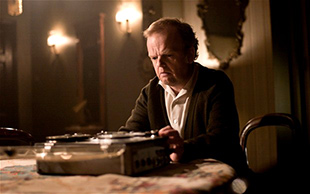 With Touching the Void and The Constant Gardener, as well as a long string of collaborations with filmmaker Michael Winterbottom among his lengthy credits, sound designer Joakim Sundström reckons to have encountered soft locked or parked reels on the past ten or so films he has worked on. Rather than the loss of a final picture edit to work to, he regards this as an indication of a director open to making changes in response to seeing the footage with sound.
'It's an art, not a science,' he points out to the audience at the Lighthouse Sound of Story conference in Brighton. 'Off-screen [acousmatic] sound, for example, appeals directly to the imagination without the intervention of picture, and can play a major part in telling a story.'
Among Sundström's more unusual projects, Peter Strickland's Berberian Sound Studio (2012) cast Toby Jones as the sound man making a psychological thriller in a 1970s Italian horror film studio – 'seriously weird and seriously good', in the opinion of The Guardian. The film references Dario Argento's 1975 cult horror Deep Red, which itself plays heavily on a striking soundtrack from Italian jazz-prog band Goblin and features a cameo appearance from a Sony TC377 reel-to-reel recorder in the main character's piano room that serves as a portent of the story behind Berberian Sound Studio.

Although the film being made in Berberian Sound Studio is never seen – its presence is exclusively described in sound – the sound tracks both it and the story of its making as part of the drama. 'The script gave a clear story but the sound became a big experiment,' Sundström says. 'For a body chopping scene, we filmed Foley artists chapping melons but then we dubbed it for Foley' – and the difference is significant. 'Sound needs to be involved to create a dramatological script.'
Drawing on his Foley work for TV, film and theatre, Barnaby Smyth later paints a sound picture for the audience to further illustrate the point. From behind a couple of screens, he performs live Foley without images to prove the ability of sound alone to describe a scene – and to demonstrate the unorthodox thinking behind creating sound unseen. The agenda is set – our speakers are out to challenge the idea that sound is simply something that is added at the end of a production. It is as conference moderator Anna Bertmark (herself a sound editor/designer) has already said: that taking an image and adding sound changes the image. Change the sound, and the image changes again.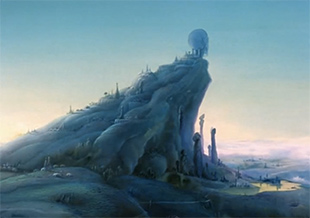 Coming to sound storytelling from an altogether different direction, Roly Porter underlines this with his own soundtrack to Rene Laloux's cult sci-fi animation Gandahar. Made in 1982 and animated in North Korea, the original soundtrack to the bizarre storyline is a predictable mush of synth-heavy rock.

Porter put both this and his involvement in dubstep duo Vex'd to one side in order to completely recontextualise the film for the British Film Institute's 2014 sci-fi season. 'I found that I could change the entire meaning of the film through the sound, so I set out to change the pace and focus by using the music and effects, and removing some of the dialogue.'
Working to locked picture – by definition – this time, he also sees a film evolving during its making through the input of the actors, and argues for sound to play a comparable part.
Screen composer Jocelyn Pook also has roots in mainstream music, but has gone on to work with the likes of Martin Scorsese and Stanley Kubrick – whose Eyes Wide Shut features a masked ball set to one of her pieces using reversed vocals. Having chosen the piece ahead of shooting, Kubrick's direction has the scene follow the sound, to the extent of including a keyboard player as part of the story line. Pook also discusses Blight, made with avant-garde filmmaker John Smith, which examines the impact of building the M11 Link Road on the East London community it displaced. Here, recordings of former residents set the agenda for both the musical score and the film cutting. She describes this and another piece constructed from answering machine messages as 'portraits of absence' – giving sound a seat in the director's chair.
Moving the focus away from the screen, Punchdrunk sound designer Stephen Dobbie's work with live sound installation offers another perspective on sound's ability to help tell a story. He directly challenges the 'pattern of obedience' where an audience simply consumes sound and picture.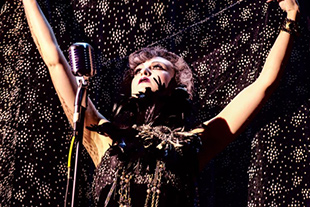 First staged in London in 2003, Sleep No More was the first of Punchdrunk's art installations to use sound, and has been revived in Boston and New York, where it won the Elliot Norton Theatre Award for Best Theatrical Experience 2010. A Vaudeville retelling of Shakespeare's Macbeth, the installation leaves the audiences free to explore the world of the performance, which uses a series of zones that are served with their own take on sound.
The sound creation shares elements with sound for games, where a linear track through events is replaced by one that is determined by the participants. The practicalities of sound transition – and spill – similarly result in careful use of musical keys to lend continuity and avoid clashes. As with games, the experience from a known starting point is individual to each player.
Currently working on Star Wars 7 and Jurassic World, Scotsman Stuart McCowan is taking time out from Skywalker Sound to reacquaint himself with British TV values, specifically the BBC's Sherlock. He is at pains to stress the advantages of collaborative filmmaking, with sound given equal and early input to the process – a sentiment wholly and authoritatively seconded by veteran soundman Ray Beckett in a later panel discussion.
McCowan credits Steven Moffat and Mark Gatiss with 'writing for sound' on Sherlock. 'Russell T Davies is also very specific on sound,' he adds, 'not just how something should sound, but how a place should sound.' He is also emphatic that film sound should become more sophisticated and less bombastic – a move that will require the re-education of many directors.
With many aspiring sound engineers and recordists in the audience, as well as more broadly focused filmmakers, the experience and enthusiasm of the Sound of Story speakers feels well invested. Sound isn't about to shed its poor relation status at IBC or NAB, but this is fertile ground for seeding ambition in sound.
See also:
More: www.lighthouse.org.uk

Last/Next Blog