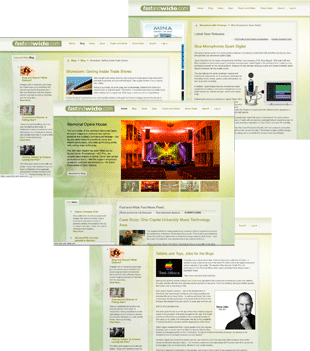 Updated daily and with a truly international reach, Fast-and-Wide will take your press and marketing properly into the future of digital publishing.
Fast-and-Wide's 24/7 following is well served by aggressive use of online media (including embedded audio and video) and interlinked content. This is supported by the use of a range of social media from Twitter and Delicious to Facebook and LinkedIn.
The site currently attracts traffic from more than 165 countries worldwide, including North and South America, Europe, the Middle East, Africa, Asia and Australia/NZ.
· Alongside the regular banners that appear on every page of the Gear (equipment news) Section and Events listing, Fast-and-Wide carries an exclusive home page banner.
· There is also a Video Showcase on the home page that carries sponsored video, and has so far been used for equipment promotion, instructional and artist endorsement videos.
· Larger banners are accommodated in key sections of the site including the blog, features and white paper sections. 'Oversized' banners in the Gear Section can be used to carry larger or portrait advertisements, and are available by request.
· Sitting alongside the Fast Moves appointments news section of the website, the Fast Work section provides a shop window for recruitment, supported by social media including LinkedIn.
· In addition to the main website, Fast-and-Wide publishes a fortnightly 'opt-in' newsletter that is open to sponsorship. This delivers selected posts from the website and can also be used to carry sponsored content.
International circulation breakdown:

EMEA 53.23%
North America 27.72%
Asia-Pacific 15.83%
Latin America 3.21%
BRIC breakdown:

Brazil
16.4%
China/HK 26.6%
Further figures and costs are available on request from
This email address is being protected from spambots. You need JavaScript enabled to view it.
.
Thank you for considering
Fast-and-Wide
in your online media planning.