Likely to be the final theatrical performance from the Monty Python team, their appearance to London's O2 Arena made extensive use of Shure wireless microphone and in-ear monitoring systems to ensure that every llama, lumberjack, albatross mention of spam was as their audience demanded – particularly on the final night, which was broadcast live internationally. Essential mixing duties, meanwhile, fell to DiGiCo.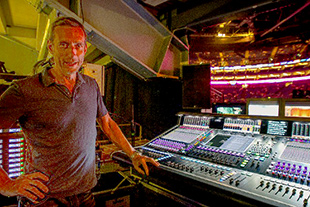 Sound production duties fell to sound designer, Rory Madden of live production and audio equipment hire company Sonalyst, who chose DiGiCo SD7 desks for FOH and monitors, and 16 channels of Shure's Axient wireless mic system.

Two DiGiCo SD7 desks were used at FOH and one at monitors, sharing six SD-Racks. Dave Dixon, mixing the band, and Simon Fox, handling vocal mixes and sound effects, took up the FOH positions, while Bill Birks manned the monitor desk.

'We had two operators at FOH because there was a lot happening in the show,' explains Associate Sound Designer Toby Chester. 'Although we still tried to keep everything very simple.'
'With more than 60 channels of radio microphones it would have been hard for one person to be across both areas quickly at the same time,' Madden elaborates. 'Having two engineers working together at FOH gave us accuracy and full control of the production.'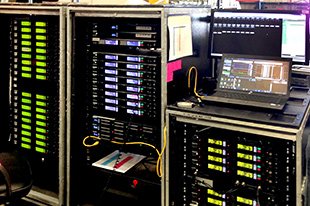 The five principal surviving Pythons and their longtime comic foil Carol Cleveland were each double-miked for redundancy. The rest of the cast, chorus and dancers were furnished with Shure UHF-R wireless mics (40 channels), while the production's in-ear monitoring requirements were handled by 16 channels of Shure PSM1000.
'I've tried all of the available systems, and own a lot of them, but I believe Shure make the most reliable and stable wireless systems' Madden says. 'The sound and features on Axient are great, and the support from Shure has been second to none – our special thanks must go to Shure Distribution's Tuomo Tolonen in that respect. The pressure on our RF Tech Graham Colley was intense, because there were an awful lot of people watching in the theatre and internationally on the final night if anything went wrong, but in RF terms we had not a single glitch.'
'UHF-R and Axient worked really well together – UHF-R's compact UR1M transmitter packs were perfect for the dancers – and it's been great being able to monitor everything through the Wireless Workbench software,' says Colley, who has previously overseen wireless microphone rigs during the London and Sochi Olympics. 'I'm pleased to say everything was rock solid.'

As well as the live shows, broadcast specialists RedTX delivered a live feed of the finale to televisions and cinemas around the world. The company's trucks were fed full Madi streams to ensure that viewers got exactly the same as was happening on stage. 'It's a really good show and it's all worked very well,' says Tour Manager Tony Harper. 'The results spoke for themselves.'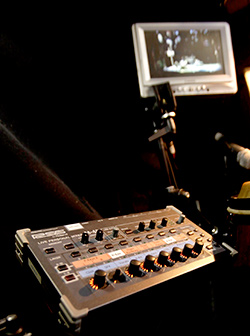 'The functionality and reliability of the DiGiCo SD7s meant that we were able to deliver excellent audio both in the venue and to the thousands of people not lucky enough to be able to come to the live shows,' Madden says.
With the performers on stage using conventional monitors, 12 Roland M-48 Personal Mixers were used by the nine-piece band for personal monitoring and mixing.
One of the first engineers to use the M-48 in quantity for live musical production, Madden specified the personal mixing and monitoring solutions from Roland for his latest sound design project having used them for the UK and European tour of We Will Rock You and for The Commitments in London's West End. 'They proved to be robust and problem free, and above all the musicians liked using them,' he says. 'I had no hesitations in using the M-48's in the design for the Monty Python shows.'
Both monitor engineer and monitor tech had M-48s so that they could listen in and make adjustments remotely if necessary, and check regularly on the musicians' monitor mixes without disturbing the musicians during the show. setup and can also be useful if settings need to be re-loaded onto one or more units
With the DiGiCo SD7 at FOH, the M-48s enabled control of up to 40 audio channels via 16 stereo groups allowing each musician to choose what to listen to without having to share the same sources and in the same order as everyone else. The M-48s were connected to the SD7 via a Roland S-1608 Digital Snake 16 x 8 Stage Unit, which fed into a Roland S-4000D Splitter/Power Distributor.
See also: