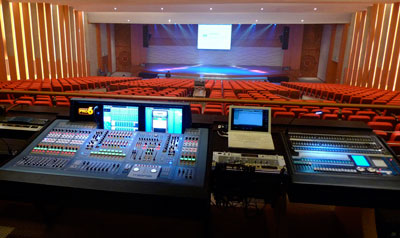 The new performance space that graces North Jakarta's University of Bunda Mulia has spared no effort over its sound installation.
Calling in one of Indonesia's most highly regarded musicians and performers – and a leading recording engineer – to oversee the development, it turned to distributor PT Gracia Auvindo for the essential mixing console. I wanted the best, so it had to be a Midas,' says Chossy Pratama. 'Midas analogue consoles are renowned for providing lots of gain and headroom but here, for a 21st century facility with some space constraints, I opted for a digital board.
'The EQ and dynamics are similar to those on the Midas Heritage console, and the EQ does exactly what I expect,' he adds. 'The first time this has happened with a digital console. The desk's reverb and delays sound natural, while the reverb on vocal performances are very warm. I can combine this with some delay effects when needed.'
The the Pro6's user-friendly operation was also welcome to someone who is used to recording studio working: 'I'm not naturally a live sound man,' he admits, having spent most his pro-audio life in the studio, working on top of the range analogue recording consoles. 'However the control surface works with all the parameters of a channel strip and the POP(ultation) groups make it clear, bringing everything to where you want it on the console.'
The installation marks a big step forward for the university's privately-funded facilities, which had previously lacked an auditorium. The new space caters comfortably for a diverse range of activities, from graduation ceremonies, seminars and lectures for UBM to classical concerts, karaoke and corporate events for external clients. University founder Djoko Susanto (Indonesian entrepreneur of the year 2003) acquired UBM and many of its surrounding properties after the Asian Financial Crisis of 1997 and has since maintained a programme of ongoing investment to boost the facility's ratings.
More: www.midasklarkteknik.com