A series of US shows in the Gentlemen of the Road tour gave Portland, Maine-based mobile recording company Satronen Sound a good opportunity to give their JoeCo BlackBox Recorders a chance to shine.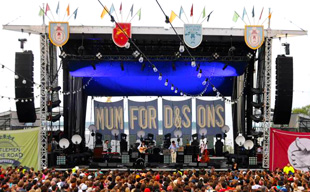 'Our main requirement for these festivals was to supply the organisers with multitrack audio to be re-mixed later for a digital download audio compilation,' says Satronen Sound owner and chief engineer, Pete Nenortas. 'The BlackBox Recorders were chosen for lots of reasons. Reliability for sure – as we ll as 48-channel functionality, ease of use and great-sounding converters.'
Headlined by Mumford & Sons, the shows used linked JoeCo BBR1B 24-track balanced analogue systems to provide independent 48-channel recording systems for two festival stages.
'For show, the day consisted of eight-to-ten bands that needed to be recorded to multitrack,' Nenortas explains. 'It was important that we supplied a system that ensured we would not have a single hiccup in the recording. It was not known which songs would be selected for the compilation, so we needed to capture it all.
'What originally attracted me to the JoeCo units was the ability to multitrack without being tied to a computer. In a festival recording scenario like the GOTR shows, it was imperative to have a system that could record for long periods of time at high track counts with superior reliability. Choosing to go with the JoeCo recorders made me comfortable in being able to guarantee that I could capture all the performances without missing a beat.
'In my two years' experience using them for live concert recording, the JoeCo units have been very consistent.
Recorded audio from the shows has already been featured on a sold-out Mumford & Sons vinyl release and will also be included on a forthcoming digital audio compilation.
See also: