Using its new 500-plus capacity Bar at the End of the Wharf as an extension of its operations, the Sydney Theatre Company created the latest hotspot for Sydney's music fans.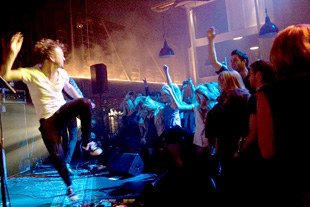 Choose a front of house mixing console that could be used in both the bar and the Wharf 2 theatre, STC's Head of Sound, Ben Lightowlers had to factor in as opening nights, season launches, media calls and monthly live gigs. He settled on a DiGiCo SD9, based primarily on his experience of the two SD8 consoles at the Sydney Theatre. With both the SD9 and SD8 featuring the same audio processing and software interface, users could move back and forth between the venues with confidence.
'When the console first arrived, the Bar was still under construction,' Lightowlers explains. 'I seized the opportunity to take the SD9 with me in my capacity as operator for our touring production Bloodland, which was travelling to Adelaide Festival Centre and QPAC [Queensland Performing Arts Centre] in Brisbane, so I could see how it stood up on the road.
'Putting the SD9 up for use in Theatre mode really gave me the chance to embrace its full capabilities. It seems to be common practice that you'll end up using all the available outputs, so it is handy to be able to tailor the number of Busses and Auxiliaries when setting up the board.'
With the SD9 capable of 48 stereo channels (96 channels total) as well as the ability to create up to 16 stereo buses in addition to the LCR master bus; any number of different setups can be accommodated. That is in addition to the theatre style matrix.
'Choosing the DiGiCo SD9 for this venue was rather easy,' Lightowlers adds. 'I was already familiar with DiGiCo's versatility as we had just upgraded the 850-seat Sydney Theatre across the road with two SD8s, so I couldn't wait for an excuse to buy one for the bar. Having the SD9 set up in this room also offers my crew more opportunity to train up on the DiGiCo console.'
More: www.digico.org