With almost 700,000 fans in attendance, the week-long Rock In Rio is the world's biggest music festival of 2011.
Held in the City of Rock, built venue on the site of 2016 Summer Olympic Village in Rio de Janeiro, the event saw performances from the likes of Guns N' Roses, Stevie Wonder, Metallica, Coldplay, Elton John and the Red Hot Chili Peppers. And it required sound systems to match…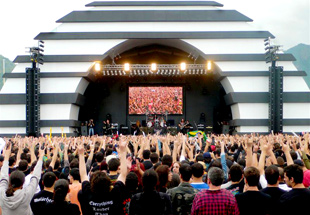 The scale of the event humbles even the largest of Europe's festivals, as the Parque do Atleta in Jacarepaguá can accommodate 800,000 people.
Outline on Sunset...
Gabisom Audio Equipment, sound provider for the show and one of the world's largest audio rental companies, rolled in an Outline GTO line-source system on the Sunset stage, one of the most prestigious stages at Rock in Rio, featuring a diverse array of acts including Joss Stone and local favourites Sepultura as well as Titãs+Xutos Pontapés, Afrika Bambaataa, Matanza and Milton Nascimento.
Gabisom's choice of GTO followed extensive testing carried out during the summer with the assistance of Outline technical staff, in order to verify its performance prior to the event.
Faced with a 60,000-strong audience at the Sunset Stage, the Brazilian rental company installed a 12-per-side GTO system, supplemented with GTO-Low bass extension and GTO-DF down fill elements. Just eight Outline LAB 21 subwoofers were ground-stacked to provide the necessary low frequency performance.
Sound engineer Fernando Luis Leite had a busy event, mixing FOH for both a 'classic rock jam' featuring Ed Motta and Andreas Kisser of Sepultura, as well as Brazilian act Baile do Simonal, who produced a mix of samba, rap, baião, soul, jazz, afro-beat, pop, funk and rock.
'The Outline GTO was a very pleasant surprise for me,' he says. 'The two bands I mixed are totally different, one playing classic rock with five guitars, and the other a pure Brazilian sound with lots of percussion and horns, but the GTO system handled them both really well. It throws long distances very effectively while maintaining excellent intelligibility even at serious volume. The Rock In Rio crowds expect it to be loud and it was – we were working at around 115dB(A) at the mix position but I was really satisfied with its performance'.
Brazilian metal legend Sepultura were mixed on the Sunset Stage by Stanley Soares, who also handled FOH for French industrial percussionists Tambour du Bronx. 'I was very impressed with the sound, very clear and tons of pressure, especially for an occasion where I was working with both a very heavy rock band as well as a large group of percussionists,' he reports.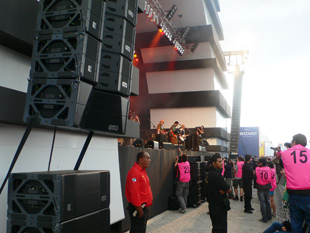 'I realised right after I played some music through the system that I would have fun – great tonality, amazing high- and low-frequency response.'
'Gabisom is one of only a few companies able to handle several very large events simultaneously,' says Outline's Giorgio Biffi. 'That the comapny had the confidence to field a new system at such a large and high-profile event is a great compliment to Outline, our people and our products.
'As usual Rock In Rio featured some of the world's top artists, and acts operating at this level are normally mixed by some of the most experienced and influential sound engineers who – quite rightly – expect the very best out of the systems they face,' he adds. 'The response from everyone who used the GTO system was extremely positive, regardless of the type of music they were working on. Once again, we really must say how proud we are to see our Grand Touring Outline technology working at the very highest level'.
Main stage
Gabisom Audio Equipment also called on JBL's VerTec line arrays – the main stage PA system included 120 VerTec VT4889 line array elements and 84 VT4880A arrayable subwoofers in the main suspended arrays. 'In a festival as large as this, the system simply had to deliver, and there was no room for uncertainty or underperformance,' says Peter Racy, Gabisom Chief Engineer. 'We had used the VT4889 and VT4880A line arrays at previous Rock In Rio shows and they can provide the expansive high-volume sound we need over this extremely large coverage area.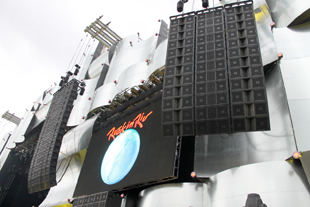 'We wanted to make sure that the people at the front of the stage weren't blown away by excessive volume, but that the people all the way in the back could still hear everything clearly,' he adds. 'The configuration we used enabled us to achieve this.'
Installing and operating the massive rig was only part of Gabisom's challenge. 'The festival allowed very little time between acts, and Gabisom had to constantly change each artist's complete stage setup including backline, stage props and monitor wedges,' says Jaime Albors, Senior Director of Sales – Intercontinental for Harman Professional. 'When Katy Perry finished on opening night, Elton John went on just 20 minutes later, with a completely different stage set-up, and Gabisom pulled it off without a hitch.'
'I was extremely impressed by the SPL capability of the system,' Albors says. 'When you have 100,000 people clapping and screaming, they can literally be louder than the level of the PA, but this was not the case for this event. With 120 VT4889's and 84 VT4880A's, the system had enough power to be heard well above the crowd.'
'The most impressive attributes of the JBL VerTec line arrays are their effortless power and clarity,' says Racy. 'This is because of their ability to deliver high output while maintaining smooth frequency response and high resolution without distortion. In addition, their predictable coverage pattern lets us optimise their placement in any outdoor – or indoor – concert sound installation.'
The festival has shows lined up for Brazil and Lisbon in 2012, and Rio in 2013. Pre-sales for the 2013 tickets began in 2011 edition and have already exceeded 15,000.
More: www.outline.it
More: www.jblpro.com