'My investment in DPA Microphones was an important step to take, and a requirement for recording at the levels I wanted,' says Norwegian pianist Torgeir Kinne Solsvik. 'I use a stereo pair of 4041-S large-diaphragm microphones for ambience, which are supreme for this type of application, with their very high sensitivity and low self-noise. They provide an openness and airiness to the mix that is difficult to beat.'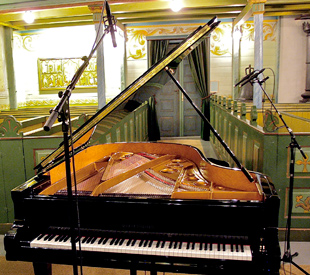 Solsvik is talking about the recording of three CDs he has just released on his own record label, Cheek Piano. All recordings were made with DPA microphones.
'For a stereo pair on the grand piano I use DPA 4003 omnis,' he says. 'They handle the piano's fast transients very well and provide a sound characterised by smoothness and roundness. That in itself is a big challenge when recording the grand piano. When they additionally reproduce the harmonic frequencies in the way they do, then there is music.
'I use the DPA 4015-TL wide cardioids [now replaced by the DPA 4015A, part of DPA's new Reference Standard Series] for vocals, in addition to the spot mics on the piano. With its broad cardioid distinction it blends naturally with the 4041 and the 4003, while being able to tilt it into different positions provides separated sound sources for inclusion both of piano and vocals simultaneously. The 4015-TL reproduces the details of the different sounds, which in my experience works very well on the singers.'
More: www.kinnepiano.no
More: www.dpamicrophones.com