ARX Systems and Olsen Audio Group Inc are marking the tenth anniversary of ARX America, when Olsen took on the distribution and representation of the full portfolio of ARX products for the US. Over the past ten years, the ARX Systems brand has gone from strength to strength in the region, with products finding their way into applications as diverse as military operations, broadcast and commercial installations.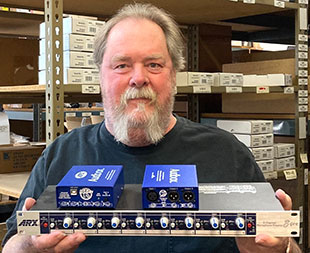 Craig Olsen, owner and founder of Olsen Audio Group first contacted ARX in 2010 when the ARX Sixgate caught his bass player's eye: 'I liked the concept of the Sixgate – I was playing bass in a band and we had five or six vocals with a large drum kit. I hadn't seen another unit with six channels in one rack unit and wanted to check the product out. I then found out that ARX were looking for distribution and a warehouse – and I had both, so the conversation started.'
'Once we spoke with Craig it became clear that he had a real wealth of knowledge and understanding of both the product and the market,' responds ARX MD, Colin Park. 'At the time, we were well established in EMEA and APAC and the US was the next challenge'.
Olsen, who had done his time on the road during the 1960s and 70s, had set up his company following a spell at Yamaha in which he played an integral part in the design of the PM3000 console. After taking consultancy roles at some major manufacturers in the industry, Olsen purchased the WindTech, Audio Visual Assistance and Mic-Muff brands with the intention of running a small, family-owned company serving the industry that was both his career and passion.
'The success of ARX America has been down to the hard work that Olsen Audio have put in over the years,' Park adds. 'We both cut our teeth in this industry on the road and we share the same values that come with running a family business, and that common ground makes working together a pleasure. We look forward to the future.'