Founded as a refuge for abused horses by Troy and Kim Meeder, Crystal Peaks Youth Ranch is part of the Ranch Fellowship in Central Oregon. The former a nine-acre cinder pit is now a refuge for children, horses and families.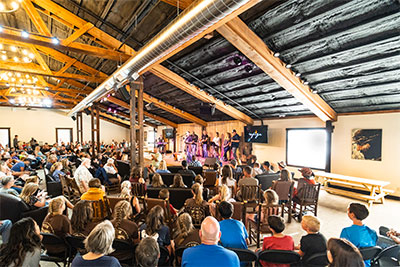 The Ranch was so successful that its 'cowboy church'-style Barn Fellowship and other ministry conferences drew more people than its small Upper Barn facility could accommodate. Fortunately, across the road from the small barn, on ranch property, sat a 70-year-old former dairy barn that could easily meet the ranch's needs. Filthy and deteriorating, remodelling it was a daunting challenge.
The Crystal Peaks Youth Ranch team accepted the challenge, and the rejuvenated building is now home to a new A/V system designed by a long-time friend and neighbour, Tony Sprando, a 20-year veteran of A/V integrator Audio Visual Bend. Sprando, whose wife and children volunteer at the ranch, had previously designed and installed a sound system for the Upper Barn. In 2018, he created a new full-service consulting company, A/VL Design and Consulting, and designed a sound system for the Big Barn based on a Symetrix Prism 4x4 DSP. Audio Visual Bend's install team handled the installation, with detail-oriented Jim Zick as project manger.
'The Big Barn has a large main space, a living-room-sized foyer off of the main room, and a community room that's about the same size as the foyer,' Sprando says. 'The Symetrix audio network covers all three spaces and the bathrooms, so we set up four zones in the Prism for those areas. In addition, there's a big lawn area outside that eventually may be used for a summer venue, so we have a fifth zone set up to enable expansion there.'
All audio input, including sound for the video system, is routed through an Allen & Heath Qu-16 digital mixer, which sits next to the Symetrix Prism 4x4 and sends stereo analogue audio to the Prism. The other two Prism analogue inputs are not currently in use. The mixer and processor rack are located in an A/V booth built into a former horse stall to serve as front-of-house. A CatRack 12x12 digital audio snake and backstage floor boxes send digital audio from the Big Barn's stage to the mixer.
The Prism 4x4 is equipped with a Symetrix xOut 12 12-channel analogue output expander, enabling analogue feeds to all loudspeakers throughout the facility. The main system in the big room employs a pair of QSC K12 2-way active main loudspeakers and a QSC K8 centre speaker, with a pair of QSC KQ181 18-inch subwoofers to the right and left of the stage. A series of beam-mounted QSC AD-S8T 8-inch AcousticDesign surface-mount loudspeakers provide distributed audio, except for the bathrooms, which have JBL Control 14C/T coaxial ceiling loudspeakers.
Although the Big Barn system does not currently take advantage of the Symetrix Prism DSP's 64x64 Dante input and output, Sprando expects to use Dante when the system is expanded to serve the outside lawn area. He did, however, make immediate use of the Prism's processing capabilities. 'In addition to routing and level control, delay was a key element because of the distributed audio system,' he notes. 'We also programmed some EQ and limiting because we used various speakers in different rooms. One reason we really like Symetrix DSPs is that they're easy to program; you don't have to jump through a lot of hoops to log in and get moving.'
The A/V Bend team installed a Symetrix ARC-2e wall panel in the A/V booth to provide system control for all zones. Sprando has long favoured the ARC-2e for its ease of use, as its 24 menus for 16 items are controlled with just three navigation buttons and an 8-character backlit display. 'The Ranch hired a paid A/V person to ensure system quality and maintenance, and they did not want to open control of the system to the public, so the A/V person has the main controls, including a computer, in the A/V booth,' Sprando relates. 'In addition, as we usually do, we set up a Symetrix ARC-Web system so the zones can be controlled wirelessly from the foyer and community room using a smartphone or tablet.' ARC-Web is a virtual user interface that uses the embedded web servers in Symetrix DSPs to enable password-protected audio system control from any popular web browser.
The Big Barn is equipped with Avlex ACT-3B UHF wireless microphone systems and a Tascam SSR250N digital recorder, which is network connected. The network uses Araknis network switches and access points. Sprando and his team also designed and installed stage lighting and a full video system. Four 65-inch displays are distributed throughout the space, and an 85-inch display serves as a confidence monitor, all managed with a Kramer VS-44HN video matrix.
'I really enjoyed working with the Ranch team, and the new A/V system is their pride and joy,' Sprando reports 'It's the nicest system they've ever had.'
'As always, working with Tony and his crew has been awesome,' responds Troy Meeder. 'We love our new worship/conference centre. The A/V package made it all come together.'