Landing a recording contract with Sony Music after winning the second series of Poland's X Factor in 2012 secured singer/songwriter Dawid Podsiadlo two Diamond certified albums. Now on a stadium tour with engineer Rafal Smolen at FOH, SSL L300 consoles supplied by GMB Pro Sound and distributor Audiotech Commercial, are managing the mix.
Smolen is as at home mixing live concerts as he is in the studio, where he works on albums and film scores. He started working with SSL consoles 16 years ago in a studio environment, and hasn't looked back. 'I've recorded and mixed many, many albums using SSL,' he says. 'It is a quality stamp; quality is guaranteed in everything you do.'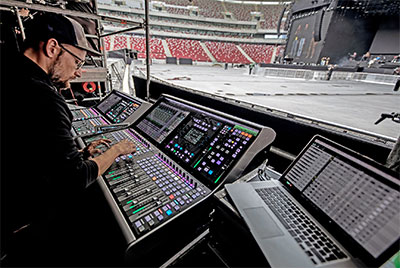 Poland's music scene may not be comparable to the UK or US, Smolen says it has its own music industry powerhouses, such as Podsiadlo: 'He is a big star in Poland,' Smolen confirms. 'The Polish music industry is very local because of the culture and the language, so we have huge stars which only exist on our soil. I'm still trying to learn from his career because he is a really special guy who won Polish X Factor at 20 years old; he became a huge star by doing his own thing in music.'
When SSL first released a live console, Smolen immediately knew he wanted to try it for FOH work. 'I was sure that this would be something special in terms of quality and processing, and I was right,' he says. 'When I tried it, I hadn't heard this level of quality of sound processing in my life. It was amazing. With SSL, I have a console where I can push the compressor very hard – I can EQ as much as I can, and the sound is still there.
'The L300 was the best possible choice for this tour,' he continues. 'I got comfortable working with it, as it quickly became apparent that whatever I did on this console would always sound exceptional.'
'I'm very picky with EQing, because I know that I want to get rid of some frequencies, but not for good – and that's exactly why the Dynamic EQ became my go-to tool,' he reveals. 'When I heard it, I simply couldn't believe it. I can take the frequency down very hard, and I can get rid of it. I just dial it in, and what I want to get rid of disappears – and it's so easy to use.'
The large faders and bigger controls also make Smolen's job easier, while he also made use of automation on this tour:'When I work, I programme my show, song by song using automation, and we don't run on a time code, so I don't have any running automation written there,' he says. 'But I do have snapshots where I do use a lot of automation within the SSL. It always scares me that if I go deep into recall filters and store filters that I will forget something, and something will not be recalled how I want it to be, or will not be stored – but it is all fine with the SSL. It's pretty foolproof: I haven't had any issues or found myself in any situation where the console did something that I didn't want it to do.'
Smolen found that the L300 handled the mix of powerful electronic pop songs and mellow tracks effortlessly. He also ended up getting pretty hands-on with his mixing.
'I always keep my finger on his vocal, and I do control the guitar and the synthesiser all the time using the faders,' he explains. 'The SSL helps me to push the main instrument parts to make it more organic and powerful whenever I can. The L300 is not a big console, and in this show we had approximately 80 inputs, so using stems was great.'
In the studio, Smolen never runs individual channels to the master mixing bus, preferring to put everything on stems so he can make some general tweaks in automation and cueing if needed. He has a similar approach on the road.
'I always run my individual channels to some stems and some sub groups, and the same is applied to my live mixing; I have my individual channels there, and I work on them when I prep the show,' he explains. 'I'm bringing stems as my stage mix, so when I'm mixing the show I don't have to go back to the channels to raise the guitar. It means instead of three pages, I only have to raise one.
'I really like the sound [of the reverbs] because you can squeeze the sound out of it, and I really noticed this when we were playing shows,' he adds. 'When we were touring in the biggest venues in Poland – about 15 concerts were to audiences of 20,000 people - some engineers would come up to me after the show and ask me what kind of reverbs I had used. People were really surprised, but the quality of the processing is simply that good.'
One of the Dawid Podsiadlo concerts was held at the National Stadium in Warsaw, which Smolen says was always intended to be a 'one-of-a-kind' show: 'We wanted it to be a real, one-time event that would really amaze people and make them want more. That was our goal,' he says. 'I am not someone who likes to brag, but it was the National Stadium, which is the venue where probably 90 per cent of the live music concerts that took place there were a disaster, because it has horrible acoustics and it's a really difficult venue to play music in. However, this event was a great success. It was attended by music journalists and other musicians, and all the feedback said it was the first concert that sounded fantastic, which was a really great achievement for us and our partner company GMB Pro Sound who worked on the PA.'
Dawid Podsiadlo has smaller gigs planned for 2020, where Smolen will be using SSL once again.