Carl Tatz Design (CTD) has struck a distribution agreement with MasteringWorks to distribute the CTD line of PhantomFocus Precision Monitoring Instruments. The agreement with the Cologne-based company will begin with the PhantomFocus eChair.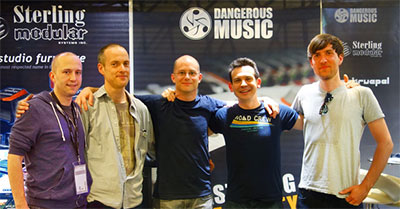 MasteringWorks distributes an exclusive selection of high-end audio gear and networks, studio solutions, support and ideas. Since the firm was founded in 2009, founder and CEO Stefan Heger, MasteringWorks (who first brought the Dangerous Music 2 Bus to Europe), has maintained close relationships to individual customers and created a unique distribution model. Also, a mastering engineer at MasteringWorks, Heger is always on the lookout for innovations and workflow improvements for studios and engineers. After trying several chairs that promised to optimise sitting and improve lumbar support, he found Carl Tatz's Phantom Focus eChair.
'This chair draws your attention to your seated posture and encourages smooth and comfortable movement,' Heger says. 'The backrest offers optimum support using minimal space, with a smaller footprint compared to other chairs. The meshed material minimises seat slippage and offers plenty of air flow for many hours of comfortable work.'
'We're very excited to be entering into the European pro audio landscape, and are looking forward to working closely with MasteringWorks to offer our unique product line to this important market sector. MasteringWorks has an extremely loyal customer base, and I am delighted to be able to work with such an experienced and professional organisation,' says CTD principal, Carl Tatz.
In addition to the PhantomFocus products, MasteringWorks distributes Dangerous Music, Sterling Modular, rockruepel, Guzauski-Swist and other pro audio solutions. The company also offers educational workshops.
More: www.masteringworks.de
More: www.carltatzdesign.com