Marking the start of the summer season in China, the Xi'an Strawberry Festival was one of the first major multi-day festivals of 2019 and featured a Martin Audio PA on the main stage.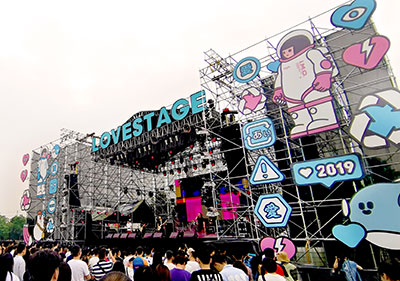 The event included multiple stages, top Chinese acts and foreign indie acts over its two days – among them, Chinese rock legends New Pants, R&B singer and producer Fang Datong, singers Wang Shi'an and Tizzy T, female rapper Wan Nida, and avant-garde Japanese act Yahyel.
Modern Sky, the event production company behind the festival and a number of other large music festivals, has a long-term relationship with Beijing Pacific Budee and Martin Audio that dates back to 2012. Since then, it has been held over 75 times in 27 cities, with Martin Audio's line arrays consistently taking a key role. In Xi'an, it was the classic W8LC that helped to unite the audience, and production deployed 24 W8LC elements a side, with 16 WS218X subfoofers.
'Modern Sky has been a big fan of Martin Audio's loudspeaker systems for many years, and regularly use tham at indoor and outdoor venues,' says Budee Strategic Alliance Manager, Brandon Chemers.
The festival brought a new youth spirit to China's old capital and started off the season on a high.
More: https://martin-audio.com