Adlib supplied a Coda sound system, along with projectors, cameras, Catalyst media server and crew for the recent UK leg of UK punk folk singer/songwriter Frank Turner's ongoing Be More Kind world tour. Adlib worked closely with production designer Ali Pike, FOH engineer Luke Buckbee and Johnny Stephenson on monitors.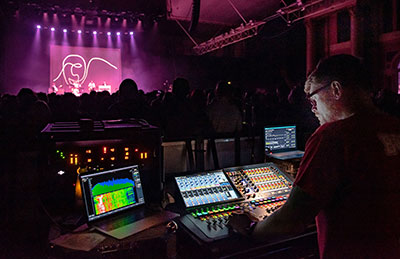 Working with Adlib's Alan Harrison, systems tech James Coghlan ensured that band engineers Luke Buckbee (FOH) and Johnny Stephenson (monitors) had everything they needed. Coghlan had completed a short run with the band earlier in 2018 where Adlib supplied a Coda AiRay system for some club and academy shows, which didn't have access to a house PA. Buckbee was sufficiently impressed, that he chose it again for this arena tour and recalled Coghlan as systems engineer.
The system comprised AiRay and ViRay supplemented with flown S2-F low frequency extensions, along with a broadside array of eight stacks of Coda SCP-F subs on the floor for even sub coverage. Three Coda APS speakers per side were used for in fill, with four HOPS8s for front fill.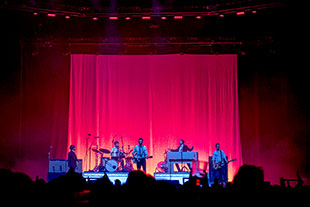 Coda was specified for its size, low weight and sound, which is well suited to the smaller theatres and rooms played in 2018 where points, weight loadings and truck space were limited commodities.
The standard set-up was 12 AiRay and four ViRay down-fills for the main hangs plus eight AiRay and four ViRay for side hangs with six SC2-Fs a side flown behind the main arrays. The AiRay was toured with the 90° AiCoupler waveguide and the ViRay with the 120° ViCoupler waveguide. Coghlan positioned the ViRay beneath the main hangs as down-fill for its increased horizontal dispersion to help cover the front rows.
In the London gig at Alexandra Palace, a long narrow box space, the side hangs were discarded in favour of ViRay in small groundstacks to fill the sides, and flew the AiRay as two delay hangs. An Adlib fibre control system with Dante linked FOH and stage, and the fibre network also carried signal to control the amps.
An Outline Newton was used as the master console matrix, which took in analogue and AES from Luke's Midas Pro2C FOH console and a DiGiCo SD12 desk doing the support mix. The outputs from the Newton then fed a Lake control system, which fed the amps with both LiNet and an analogue backup. A total of12 Linus14 amplifiers and 25 Linus10s were all connected to a Mac Mini at FOH, running Linus Live to control the amplifiers.
With a hectic live show schedule, the band provided their own consoles – the Pro2C for FOH and a DiGiCo SD9 for monitors – and also had their own IEM monitor system, which leaves the stage clear, so Adlib's role was suppling the racks-and-stacks, control, the crew and their technical and creative fine-tuning skills.
'I knew that any small question I might have would have already been considered and sorted – and that attention to detail and thoroughness made everything exceptionally smooth,' Coghlan concludes.
More: www.adlib.co.uk