DirectOut Technologies has appointed Luca Giaroli and Lorenzo Sassi as new Business Development Managers.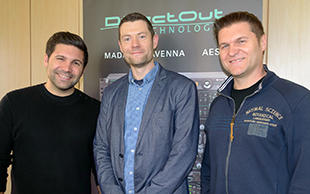 Giaroli brings 25 years' knowledge and experience of the professional entertainment market, gained from working as a sound engineer, production company owner, and manager, product specialist and business development manager for companies including Optocore, Powersoft, Audiosales and Outline.
Sassi also grew up inside the pro audio industry, working as an AVL technician, operation manager and logistics coordinator for an Italian production company and, recently, business developer for Italian loudspeaker manufacturer Outline.
'Luca, while working for the Italian distributor Audiosales, was one of the first persons to takr notice of our very young company eight years ago,' says DirectOut Managing Director, Jan Ehrlich. 'Lorenzo is a young and vital person with an excellent knowledge of our market. Together, they will help us in offering our clients and resellers an ideal package of worldwide sales support and assistance.'
'Quality and reliability are the ingredients that every BDM would like to work with. DirectOut has offered both since the day the company was born', says Giaroli. 'The adventure that lies ahead looks really exciting. It will be a great pleasure to offer my experience and my support to all our international clients and to collect new ideas to share with our outstanding R&D department to constantly increase the variety of the services and the features of the products offered by DirectOut.'
'It will be an honour for me to support the team', adds Sassi. 'The references that the company already holds speak for themselves. The more the market discovers about the capabilities of our products and the applications in which they have been deployed, the more their success will spread in the live, broadcast and integration markets.'
More: www.directout.eu