Dynamics processing company Jünger Audio has added two sales representatives to its international sales team – Christoph Harm and Jochen Wainwright.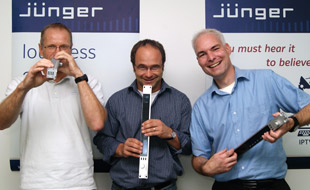 Christoph Harm joins the company from Riedel Communications where he was International Sales Manager with responsibility for the sales of all Riedel products and for generating new business. He will now be based at Jünger Audio's Berlin office and be responsible for sales across a number of territories including Italy, BeNeLux, the Middle East, Central Asia, parts of Africa and India.
Jochen Wainwright, who worked with Christoph for many years at Riedel, will also be based at the Berlin office and will handle Jünger Audio sales into Germany, Austria, Switzerland, Scandinavia, the Baltic Republics, Poland, CIS and Russia. Wainwright joins Jünger Audio from RTW, Cologne, where he was responsible for International Sales.
'In recent years' Jünger Audio has introduced a number of groundbreaking products to help broadcasters tackle the issue of audio loudness and we are already seeing an increase in sales as a result,' says company MD, Peter Poers. 'The addition of Christoph and Jochen to our sales team significantly strengthens our ability to service existing customers and build links with new ones. Both men are highly experienced and have a thorough understanding of the broadcast market and our place within it. We are delighted to welcome them to the company."
More: www.junger-audio.com