Helga Somava has joined DPA Microphones as one of the brand's Directors of Product Management, and is accompanied by a number of additions the DPA international sales force.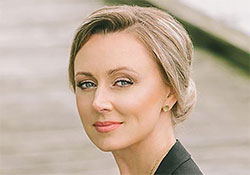 A graduate of Copenhagen Engineering College with a focus on export engineering, Somava brings leadership experience from past directorial and managerial roles at Bang & Olufsen, GN Netcom and most recently at Nuori ApS, where she served as COO. In her new position, Somava will oversee the development of new products as they align with DPA's goals in the industry.
In the sales sector, Richard Watts is new Regional Manager for Southern UK and Konrad Majchrowski takes on the title of Area Sales Manager in Poland. The US team has added JC Bittence as Area Sales Manager in the Midwest US, while Carlito Cobos will focus will on Southern US and Latin American sales. All four bring considerable experience, including Watts' work as an audio professional, Majchrowski's years in live sound productions, Bittence's efforts in sales and management and Cobos' familiarity with audio production and global market development.
Back at its Danish headquarters, DPA has added a new digital marketing specialist, Tetiana Kulyk, who joins the company from Issuu, the ebook/digital magazine platform widely used within the media industry, where she served as a data analyst and previously as digital marketing specialist. Prior to that, Kulyk worked for Stylet and ProfiWebArt in various digital marketing roles.
'We are extremely grateful to welcome so many bright and innovative minds to the DPA Microphones team,' says CEO, Kalle Hvidt Nielsen. 'The experience these individuals bring will be a great asset to the company. We look forward to their contributions to the brand as we reinforce our commitment to the industry.'
More: www.dpamicrophones.com