Optimal Audio has appointed Al McKinna as Head of Product, responsible for creating a future product development strategy that follows the brand's original ambition of 'removing the often unnecessarily complex nature of commercial audio'.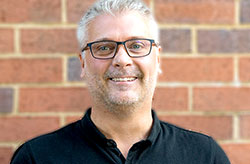 A Sound Technology graduate of LIPA, McKinna joins after 15 years at Avid, where he spent three years in sales and 12 in product management. As Director of Product Management for Live Sound, he led the Avid business strategy and product development of the Venue brand of digital live audio production systems, including Venue S3L, Venue S6L unified platform, and accompanying Venue software, overseeing 30 major product releases and achieving two patents. Most recently as Director of Audio Hardware at Avid, he led Product Management for Pro Tools systems, Control Surfaces and Live Sound.
'The first phase of launching the Optimal Audio ecosystem into the market is well under way,' he says. 'It's a fantastic system, based on principles that address a clear demand in the market. My job will be to build a business strategy and create processes that develop and sustain the brand as the best commercial audio offering available in the small to medium install space.
'I'm really excited about the prospect of being an integral part of such a great team, and working with them to build a strong and progressive future for the Optimal Audio brand.'
'Al's career speaks for itself, and we are delighted that he has chosen to join us,' says Optimal Audio MD, Dom Harter. 'His product management work at Avid, in both live sound and audio hardware, mark him out as an exceptional audio industry professional. For a new brand like Optimal Audio, his mastery of business strategy allied to product development will be fundamental to successfully fulfilling our aims and ambitions.'
See also:
Focusrite Group launches Optimal Audio