Renkus-Heinz has appointed Dudley McLaughlin to the position of National Sales Manager and Garrison Parkin to the position of Western Regional Sales Manager. The positions both cover the North American region.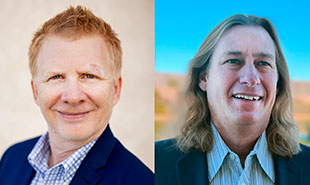 'Dudley and Garrison are both important members of the Renkus-Heinz family,' says Harro Heinz, Chairman and co-Founder of Renkus-Heinz. 'And while their success is well documented prior to 2020, it took commitment by everyone on our team to ensure we continued shipping product and supporting our partners over the past year.
'Dudley and Garrison are prime examples of that commitment. Their promotions will help us better serve our partners going into 2021 and beyond.'
The moves come one month after the announcement of a new Director operating across Asia, Oceania and SAARC, and in the midst of multiple new product announcements from Renkus-Heinz.
'With this new team structure, we will be able to better support everyone who relies on our solutions,' McLaughlin says. 'These moves mean that dealers, integrators, consultants and end-users across North America will each have an additional point of contact with Renkus-Heinz. And we believe offering that increased level of support and collaboration will be key moving forward.'
'We have worked diligently over the past year to ensure we are in a position to be shipping product, introducing new solutions and hiring staff,' Heinz adds. 'The result of that work is that we are in a very strong position to provide our partners with cutting-edge and impressive loudspeaker offerings in 2021. We are optimistic about the year ahead.'
More: www.renkus-heinz.com