US mic manufacturer Earthworks Audio has filled the first of several open positions by bringing Mike Dias onboard as VP of Global Sales & Marketing.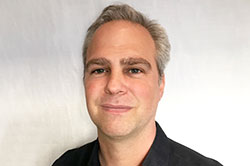 Dias spent five years as the Director of Sales & Marketing for Ultimate Ears prior to making the move to Earthworks. He is also the founder of the In-Ear Monitor International Trade Organization (IEMITO).
Earthworks Audio had been planning to expand before the pandemic decimated the touring industry. The course of events brought into sharp focus the need for continuous process improvements. 'Mike's background in the industry – in terms of his relationships with distributors, resellers, organisations and manufacturers, members of the press, and the live sound reinforcement community – make him an invaluable addition to the team,' says Earthworks Audio COO, Gareth Krassuer. 'He moved out to New Hampshire for family reasons, and this new partnership is a win for all of us."
'I'm honoured to help spearhead the vision of the Earthworks management team,' Dias says. 'I've always been attracted to the Earthworks product line, and the company's philosophy of building precision mics that can fit into any critical environment – measurement, studio or live sound – but right now a great product line is, perhaps, not enough to ensure future health. The other piece to the puzzle, and one that Earthworks understands very well, is the need to take care of the people involved in the process; the dealers, end-users, partners and employees.'
Dias will be based in New Hampshire and will continue to hold his position as the Executive Director of the In-Ear Monitor International Trade Organization. As part of the aforementioned expansion, he will assist in growing the Earthworks team, with several position opening immediately.
More: www.earthworksaudio.com