UK A/V supplier Audiologic has reappointed Diogo Scutti as Application Support Engineer.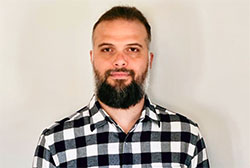 The company maintains its optimism for the future, and is keen to prepare for what it sees as a gradual return to a strong and healthy industry in the UK. Professional audiovisual installations and products have become a necessity and an integral part of any business' operation, as the company looks to secure a broader industry focus.
Scutti returns to Audiologic after spending three years as Project Engineer with SSE. Over his 20-year career, he has played a major role in both live production and systems integration in many ntoable events and locations – among them the opening and closing ceremonies at the 2016 Olympic Games in Rio de Janeiro and his involvement in providing an audio system for Tottenham Hotspur's new stadium last year. More recently, he headed a large team responsible for a new audio experience at the Ascot Racecourse.
'Diogo's experience in large-scale projects and expansive system design will help to push our technical offering even further and we are thrilled to have him back onboard', says Senior Application Engineer, Ben Spurgeon. 'Each member of the team has varying experience and Diogo is a perfect fit to keep expanding the team's knowledge base.'
Audiologic regards providing technical excellence as an essential part of its support a diverse and growing portfolio of products and solutions. Scutti's expertise is expected to strengthen the team, and the help clients make best use of major professional audio brands in their projects. Part of his focus will be on next-generation digital signal transportation and networking, where Audiologic bring these and other new technologies to A/V projects.
'The leadership calibre and vision of the management team have created an environment in which my return makes sense,' says Scutti. 'I look forward to adding to the team's collective expertise and using my specialist knowledge in audio and video protocols and digital networking to help Audiologic continue to thrive. The environment is both friendly and collaborative and driven by the passion and vision that will enable us to meet the challenging business environment ahead.'
See also:
More: www.audiologic.co.uk