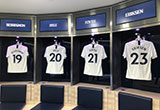 Behind the scenes, they called it Project Leapfrog. Its aim was to eclipse the capabilities of comparable sports stadia in terms of both facilities and technology.
It is Tottenham Hotspur Stadium, home to Tottenham Hotspur Football Club, and the UK's largest Premier League football ground. Among many other accolades, it was also the platform for the full development cycle of a new line array. It is the Crème de la Prem.
'We went and saw every stadium and arena that we could think of to understand what was best in class, and also what failures and weaknesses other venues had – so that we could improve upon them,' confirms THFC Head of Partner Services, Fran Jones, who calls the new ground 'a showcase for fan experience', and believes that it sets a new standard for the industry. 'The aim was to build the best stadium in the world,' he insists. 'It was all about doing things that had never been done before.'
Hosting its first Premier League football match in April 2019, the 62,062-capacity stadium was designed by sports architectural specialist Populous and opened its account with a home win over fellow London side Crystal Palace.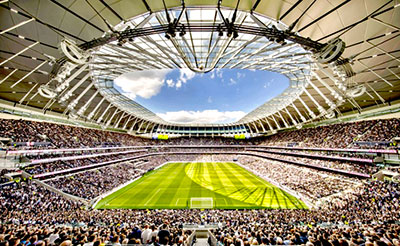 Currently, Tottenham Hotspur Stadium is the only stadium outside America designed for NFL matches, with a retractable football pitch above a synthetic turf pitch for NFL London Games, as well as concerts and other events – and alongside dressing room and fitness facilities for soccer are parallel facilities solely for American football events.
One thing the new ground has in common with close North London rivals (and fellow new stadium sitters) Arsenal, is that both teams' previous grounds were designed by renowned Scottish architect Archibald Leitch, who was responsible for many football grounds of their era – Spurs' White Hart Lane opening in 1899, followed by Arsenal's Highbury in 1913. But one thing it does not share with the new Arsenal ground, nor with any other Premier League football club, is its city centre site.
In fact, while Arsenal's Emirates Stadium required a relocation (leaving behind some protected status stands that have been repurposed as housing), Spurs built their new home pretty much on top of their former one – it remains on Tottenham High Road and there is a plaque in the concourse floor marking the location of the former White Hart Lane pitch centre spot. It boasts the largest single-tier stand in the UK, hosts the Tottenham Experience interactive museum and club shop, is the only football stadium with an in-house micro-brewery (Beavertown) and boasts the longest bar in Europe. Oh, and it is the world's first completely cashless sports stadium.
Jones has enjoyed a ringside place in the development, working closely with A/V installation acoustics, sound systems, audiovisual and broadcast specialist Vanguardia, the SSE Audio Group and Tottenham Hotspur as integrators, and a team from Harman/JBL on an installation that has taken in every room and area, indoors and out, throughout the 1.3million sq.ft venue.
Early Goals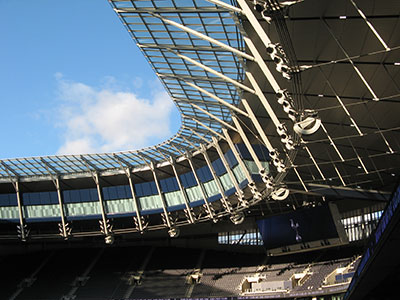 The old White Hart Lane saw its final Premier League encounter on 14 May 2017, signalling a temporary relocation to the new Wembley Stadium to allow Spurs' new home to be completed.
Jones describes the old White Hart Lane as having become 'not fit for purpose for modern-era football', with its capacity significantly trailing behind other major Premier League clubs – Manchester United's Old Trafford's expansion promised a capacity of 74,879 while Arsenal's Emirates Stadium seats 60,260.
Building new on top of old glosses over the convoluted route and political manoeuvring that led from White Hart Lane to Tottenham Hotspur Stadium (tenders for naming rights are welcome). Along the way, there were discussions surrounding use of the London Olympic Stadium and proposed rebuilding on the site after the 2012 Olympic Games. The Northumberland Development Project, as it was officially called, proposed a new stadium partly on the site of the existing White Hart Lane ground, but inevitable opposition to the plan saw English Heritage, the Mayor of London and the Secretary of State all involved before initial approval was granted in 2010, with revised plans, including a larger 61,000 capacity finally cleared in 2015.
The many revisions and redirections that characterised these stages of the project were to be abundantly reflected in the ongoing evolution of the audio and A/V – alongside many other of the complex's facilities – throughout the build, many of which were far from trivial, and required the very closest cooperation between the club, Vanguardia, SSE and Harman to keep the project on track. Pressure from what had been achieved at nearby Arsenal also played into the mix.
'The necessity to enhance and improve the experience for everyone is critical, especially when you have competitors improving their own infrastructures,' Jones concedes.
The Sound of the Crowd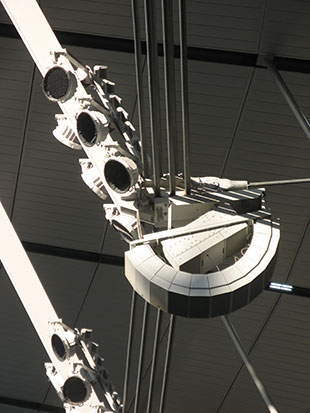 Where the small size of the White Hart Lane bowl intensified the sound of the crowd on the pitch, stadium architect Populous employed acoustic design and aspects of the sound system design to recreate that intensity. At the same time, the bowl was also required to be suitable for safety announcements and music – what Harman Senior Business Development Manager for Large Venues, EMEA, Ryan Penny calls 'that golden sweet spot where you have a reverberation time in the bowl that creates a fan experience but doesn't become overwhelming and lose clarity from a sound perspective'.
Penny regards sound as 'possibly the most important part of live sports presentation'. In the Tottenham Hotspur Stadium bowl, this involves 156 JBL VLA-C2100 line array loudspeakers in 18 non-identical clusters surrounding the pitch – the first use of this design anywhere in the world following their development at the stadium – accompanied by 54 VLA-C125S subwoofers in cardioid configurations to control spill out of the stadium and into surrounding residential areas set behind the main arrays. The bowl's sound system can also be used to address the playing area for PA/VA announcements.
'We had agreed a production-line solution with JBL, but it was about taking that product and developing it,' says Mark Murphy, Vanguardia co-founder and Associate Director. 'I don't know how many manufacturers could take on a project with the resources to deliver product development, prototyping and then go into production within the time-scale of the project in order to deliver a brand-new solution.'
Nevertheless, this is what the Project Leapfrog team did, making the stadium the first install of a new Harman catalogue system.
The line arrays in the bowl are powered by182 Crown DCi Multichannel Dante amplifiers, and connected by 12km of 10mm, 4-core fire-rated cabling – with no technical gantry in the stands providing ready access to the roof space, installation was no small undertaking.
'For me personally, sound in the bowl is very important – it not only enhances the experience but ties into visuals you will see on screen,' says Adam Shoker, Stadium Production Lead for THFC. 'On Champions League nights there is one moment that always gets me – it's when the players line up on the field, and that's when I get the operators to push the sound to the limit. Going forward, we want to be able to use high-quality adverts and high-stake club pieces.'
Match Fit
'Every building is unique, and this is one that makes use of every surface of the building,' Murphy observes. 'In some stadia, they've struggled to fill the space beneath the seats with useful stuff. Here, everything is used. It's not like building a football pitch with seats all around it.'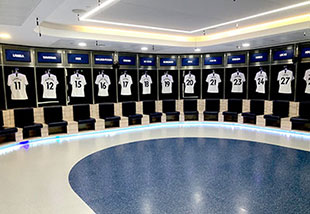 Taking in all of the facility's paces and needs, the wider stadium A/V installation is based around an IP infrastructure that employs Dante for main audio transport, with QLan and HiQNet as companion comms and control protocols, supporting the 660 separate loudspeaker circuits and 290 independent AV/BGM channels that serve all areas of the complex and allow extremely flexible use of all areas.
There are 310 paging zones and three PA/VA control and paging locations, with in excess of 5,000 various loudspeakers from the JBL installation portfolio covering the concourse/hospitality areas and back of house – a combination of Control Series ceiling and pendant speakers, and JBL Control 25-i/28-i wall-mounted contractor models. The atrium, meanwhile, is served by JBL AM5212/64 two-way speakers.
The stadium counts 1,700 TV screens and 17,000 Ethernet ports, and 421 VLANs for A/V. There are 30 equipment racks that, for safety and security, are spread around ten locations (on three levels), and there is further safety in redundant dual network servers in separate locations and redundant network switches. Also redundant is the fire-rated fibre-optic cable infrastructure itself.
Behind the scenes, there are JBL CBT 1000 speakers accompanying the LED wall in the Press Conference room, accompanied by four JBL ASB6112 high-power subwoofers and AC16 JBL surround speakers powered by Crown DCi amplification and BSS Soundweb Blu processing.
Up in the Level 4 Sound Control Room – which is where all of the match day content comes form – is a Soundcraft Vi1000 mixing console that also brings audio flexibility to different zones' uses.
Higher Ground
Vanguardia became involved in the project in 2014, with the initial stage of the project being to determine what THFC wanted. 'They are very focused,' says Murphy. 'Spurs wanted to do something that was world-class and also the only purpose-built NFL stadium outside of the US.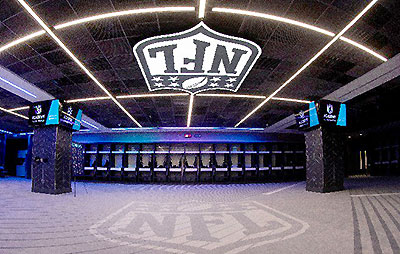 It was about building something that would be at the top end of stadium experience. That was when we started working with the architects – how everything was going to look and how it was going to sound, both in and outside the building, and how to the control the sound. Sound was also a factor in determining whether the building could be built in such a close urban environment.'
SSE Audio Group came on side in 2016: 'We started with a very good design specification but, as with any project like this, the design was fairly fluid,' Director Eddie Thomas describes. 'The specification we started off with is nothing like what we actually delivered. The whole thing has been designed over and over again, some areas many times, because of design changes to areas and finishes, and changes to the building structure itself. We sat in many design meetings for many, many months to iron out acoustic properties of areas, speaker types, aesthetics, performance criteria…'
Harman/JBL's involvement was not a given, but a tender won on merit. 'We ran a capabilities-led approach across all our technology packages – everything from network to lighting, and of course, to sound,' Jones explains. 'That was so that we could be sure we had the very best of everything that we needed. As we ran that process, Harman and JBL established themselves as the very best solution for the client. Then we went back and asked what we could do better. We wanted every single aspect to be the best, to be innovative, to be different.'
'We had to deliver a huge array of systems to meet all the requirements,' Penny agrees, 'not only technical requirements but also visual and aesthetic requirements. For many people within the construction environment, sound is fairly low on their list of priorities, so it takes quite a lot of fighting with quite a lot of people to push it up the priority list – everyone has to be fighting the same fight to get a result.'
'Getting speakers in the right positions for best coverage, SPL and, of course, intelligibility was very difficult in some areas because there was nowhere to put anything,' Murphy says. 'Nobody wants to see a loudspeaker.'
Home Win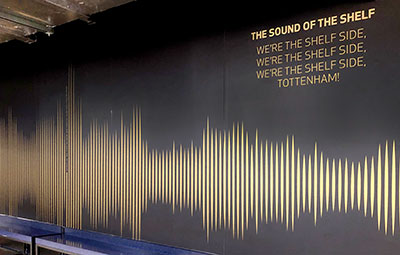 'It's taken us a very, very long time to get to where we are today – 20 years is a long time, and the scope and scale of the design has changed numerous times in that period,' Jones reflects. 'But audio systems are in every single room here; we have touched every single aspect of this project, from the basement car park to the Stratos lounges on Level 9.'
'I think we can say that this was fairly unique, in that the client was so heavily involved throughout the process. For some of the spaces, the final fit-out was only finalised during the process of construction – partly because of the amount of involvement that Daniel [Levy, THFC Chairman] himself wanted to have,' Thomas adds. 'This is a project he cares about and wants to have as a legacy.'
Now with a ground that surpasses its rivals in capacity, facilities, technology and innovation, Tottenham Hotspur Stadium is prioritising – in the short-term at least –training up a full A/V team to deliver the stadium's full potential. If you remain in any doubt about the value THFC places on sound, another of the ground's conceits is an audio waveform representation of the fans' Shelf Side chant from the glory days of the White Hart Lane stadium… a whole wall's worth of it.