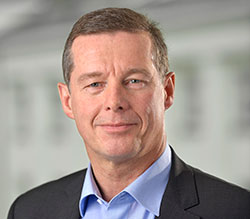 Lawo has appointed Jochen Richter as Head of Sales, Radio.
Richter's previous positions include Key Accounts Sales Director at David Systems, Head of International Business at SCISYS driving large systems integration projects, and Sales Director for Aprile Consulting, introducing cloud-based programmatic radio advertising systems to radio stations and advertisers.
'Lawo is a company that loves Radio just as much as I do,' he says. 'Today's broadcast facilities are more tightly-knit than ever thanks to Lawo's groundbreaking work in developing IP networking for Radio and TV studios and infrastructure. They've also worked hard to promote the development and adoption of AoIP standards. Lawo is committed to improving the state of the art, and I'm excited to be joining the team.
'Lawo's client relationships are first-rate,' he continues. 'As a Lawo partner in the past, I saw for myself that this company is dedicated from the top down to their customers' long-term satisfaction. It's great to be a part an organization that always puts the customer first.'
'Jochen Richter is a perfect fit for Lawo', says Lawo Head of Global Sales, Jamie Dunn. 'He has worked with private and public broadcasters, system integrators and consultants around the world. With an extensive background in engineering and over 25 years in broadcast, he knows the industry intimately – and he also knows how to help plan and launch the large systems projects Lawo clients often have. We are delighted to welcome him to the family.'
Richter is based in Hamburg, Germany, and as Head of Sales, Radio, will work with Lawo's international team to promote Lawo radio products, help develop strategic sales partnerships, and work with radio Key Account clients.
More: www.lawo.com