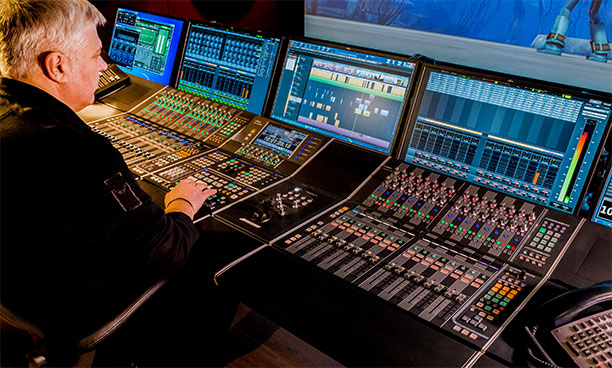 'It's been like switching from flying an aircraft with a mouse and keyboard to flying it from within a real cockpit,' says Fredo Gevaert, owner of Belgian studio Temple of Tune. He is referring to the move from in-the-box Nuendo working to assigning control to a Yamaha Nuage postproduction system.
The migration began in 2014 with the installation of the studio's first Nuage and is brought up to date with a second Nuage system that has recently been added.
Established in 1990, Temple of Tune specialises in sound design for television, film and advertising. It has used Steinberg Nuendo in all four of its studios since the DAW was first launched, but the installation of the first Nuage system in the main studio made a big difference to the workflow.
'Nuendo has so many advantages compared to other DAWs,' Gevaert says. 'It is more flexible, faster and easier to work with multiple users. However, there is a limit to the number of key commands one can use and remember. But until 2014 we didn't use controllers because there wasn't one that fitted our needs.'
That all changed with the introduction of Nuage, which brought all the functionality of Nuendo immediately to the fingertips of the Temple of Tune engineers.
'Nuage was the first controller that we were comfortable with,' he continues. 'You can use it with your eyes closed, you don't need to look at which button you are reaching for, it is so intuitive. We fell in love with it from the first minute.'
The second Nuage has been installed in Temple of Tune's cinema room, which is used to produce a wide range of surround mixes. Purchased through Yamaha dealer Amptec and installed by the studios' own technical staff, it has immediately been put to work on 52 11-minute episodes of Franco-Belgian animated series My Knight and Me, which is broadcast worldwide.
'The workflow for this series uses both Nuage systems, starting in the main studio,' Gevaert says. 'We start by doing Foley recordings with Nuage as the front-end controller, then we use the Nuendo's Spotting/Marker/ADR functionality to sort out the Foley recordings.'
'Next we do the automated dialogue replacement (ADR), which Nuage makes a big difference in being able to do quickly. Then we do sound effects cutting and the final TV mix. From there a cinema mix is done on the new Nuage system in our cinema room, where we can do 5.1, 7.1, Dolby Atmos and Auro 3D mixes.
'We have to produce three completely separate masters – for television, cinema and DVD, all with a different sound and dynamic range. The combination of Nuendo and Nuage is simply fantastic, it means we can guarantee our customers the best possible quality for their budget.'
See also:
More: www.yamahaproaudio.com