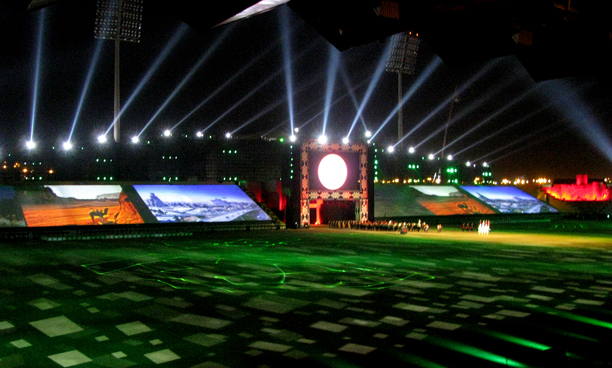 Held every five years, the Oman Tattoo and is unquestionably the biggest event for the Oman Government which stages an exemplary display of marching bands, reinforced by a powerful sound, light and video show
For this year's event, Wizcraft called on Sound.Com to provide the complete sound design and equipment – who promptly shipped two containers of audio equipment on their maiden voyage overseas, including a full Optocore fibre-optic system. 'We provided total audio solutions and not just engineering solutions,' says Sound.Com MD, Warren D'Souza 'That is why this is a milestone event and Sound.Com's first international show.'
With the Commonwealth Games under its belt, Sound.Com repeated a winning formula for the sound at the Al Fateh Stadium. Sunil Karanjikar and Warren D'Souza, knew that their biggest challenge was to manage more than 56 wireless channels and16 gun mics across the periphery of the ground, along with a lot of audio patching and routing. Their solution was to use Optocore fibre-optic transport mechanisms for both audio and control – key to the set-up were Optocore's new DD32R network interface, X6R-FX (16 Mic In) flexible converters and DD2FE digital I/O Madi interface.
'We built four node racks on the field of play to drag-and-drop audio signals in any permutation and combination,' D'Souza explains. 'We were able to do this as we ran all the audio digitally across the entire stadium and also had analogue back-up system in place too.'
Jason Macwan used a network of HP Procurve L2 managed switches with multimode GBIC ports to remotely control all microphones, in-ear monitors, APC UPS management, Harman's System Architect and Dolby Lake controllers. 'This level of control was pivotal to the success of this project as we were not given any walkie talkie access to work in the field,' says D'Souza.
All the Optocore audio and HP ProCurve control signals were transported on custom made six-core multimode fibre-optic cables (more than 2.2km of fibre-optic cabling). 'As we wired the entire system we just shook our heads as to how this would be possible on regular copper cable for audio, and Cat5 cable for control. The stadium runs were so long that we even had two fibre cables as long as 500m across the huge Al Fateh Stadium.'
The field of play loudspeakers were a combination of JBL VerTec and VRX, driven by Crown and Lab.gruppen amplifiers. They also provided coverage of the Royal Box – with further JBL speakers hidden in the flower beds.
'No matter how much we speak about the technology it's the team of people that makes the difference to a project such as this,' says D'Souza. 'We would also like to thank Viraf Sarkari, Andre Timmins, Aman Anand and Team Wizcraft who had faith in our ability to deliver a great show.'
More: www.online-sound.com
More: www.optocore.com