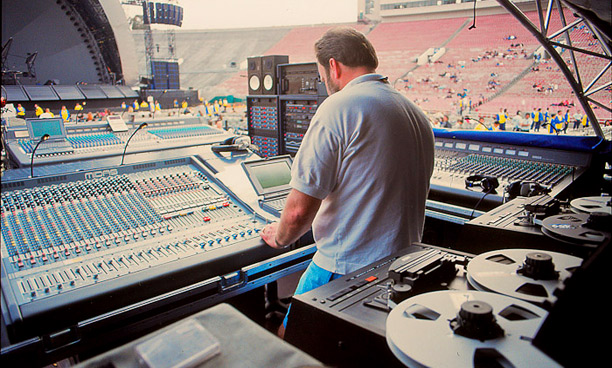 The hand-built quadraphonic mixing desks used on Pink Floyd's
Momentary Lapse of Reason
and
Division Bell
world tours are to be auctioned in London on 15 December 15. The auction will take place at Bonhams in Knightsbridge, with a percentage of the proceeds going to concert industry charity Stage Hand, the new name for the PSA Welfare & Benevolent Fund.
The consoles are being sold by owner Britannia Row Productions (BRP), the sound company originally formed and owned by Pink Floyd, which has been independent for the past 26 years.
Every Pink Floyd tour since the late 1960s featured quadraphonic sound among the many live sound and lighting effects pioneered by the band. Sound effects including helicopters, the famous chiming clocks and gongs of Dark Side of the Moon, were whirled around massive arenas and stadia using banks of loudspeakers positioned in an approximate diamond layout, with one stack at the rear facing the stage, the two side stacks to either side on a line slightly behind the mixing desk position, with the main left-and-right PA handling the front 'point' of the diamond. The effects were sent to the speakers using one of the special hand-built quadraphonic mixing desks.
The desk used on the Momentary Lapse of Reason tour has a Bonhams catalogue price range of £5,000-£7,000, while the more technically complex, and also specially commissioned, Midas XL3 Quad mixer used on the Division Bell tour has a catalogue price range of £25,000 – £30,000. Both items are unique and were designed and engineered specifically for each tour.
Only six generations of quad mixing desks or external quad panning devices were made during the band's performing history between 1969 and 1994 (details here), each using the best audio technology available at the time. 'We have kept these mixing desks on our stock and looked after them very carefully because of their historic place in the Pink Floyd performance legend,' says Britannia Row Productions' Mike Lowe. 'Both tours played to over five million people worldwide, from Tokyo to London and from Los Angeles to Sydney and each desk was at the heart of its respective tour. Now, with the onslaught of digital technology, the ways to deliver quadraphonic sound has radically improved and we felt the best outcome would be to offer them to collectors at auction and in the process make a donation to Stage Hand.'
Stage Hand (aka the PSA Welfare & Benevolent Fund) is a UK registered charity, supported by the Production Services Association (PSA), a trade body for concert and event crew. The fund offers financial hardship support and retraining grants for those in the industry who are unable to work through illness or injury.
'This is a unique and exciting opportunity for a Pink Floyd fan, collector or museum to own a piece of the band's technical heritage,' says Bonhams Consultant Specialist, Stephen Maycock. 'The desks are handbuilt one-offs specifically designed for Pink Floyd's tours, and because the music world has adopted digital technology on a large scale, it's highly unlikely that anything similar will ever be made again.'