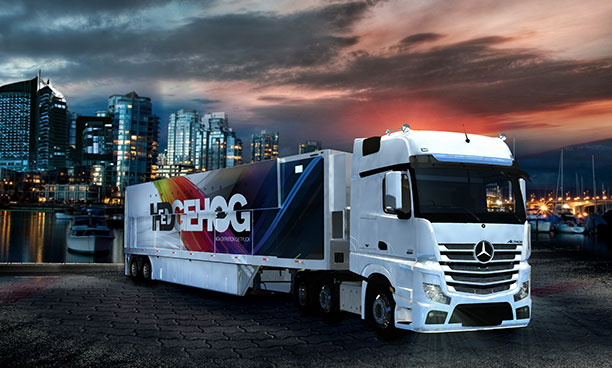 In a 'double first', Lebanon's first HD OB truck has become home to the first Calrec Audio mixing console in Lebanon. Beirut-based production company Hedgehog an Artemis Light console for to complement its HD video set-up for all its mobile TV production projects – including live television shows, sports and entertainment events, many for broadcasting giant MBC.
'Not only do we have Lebanon's first HD OB truck, but it is also the first OB truck in Lebanon to have this degree of audio power,' says Hedgehog CEO and MD, George Moufarrej. 'Calrec was an obvious choice, because it has a long, successful history in OB trucks.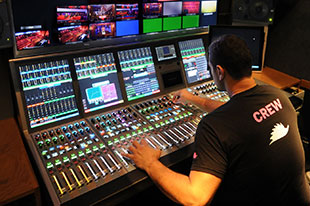 'From front to back, cameras to servers, the truck is equipped with the most advanced gear, and the audio system is no different. Based on the latest trends in the business, we'll likely be working on live talent shows or singing competitions such as The Voice and Arab Idol, where the audio is of utmost importance. That's why we turned to Calrec. Calrec gives us immense power and scalability with full redundancy on every critical component of the system.'
The console is a 32-fader Artemis Light in a 40-fader frame, which is installed in a 14m expandable truck. The set-up can handle up to 14 HD cameras and houses full production to meet the demand for HD television production.
The Artemis Light provides 240 fully-featured DSP channels, and its 'surround spill' controls offer ready support for 5.1-channel working. The console's configuration also gives Hedgehog room to expand the number of faders by plugging in an additional panel. Likewise, Hedgehog can increase the number of inputs and outputs by plugging in new I/O boxes to the integral router using a fibre or copper connection.
Previously, Hedgehog would have had to match HD video with lower-quality audio from the studio's less sophisticated audio system. Integrating the Artemis Light console into the new truck means that the company can offer a full line of services with consistently high quality in both video and audio.
'When you talk Calrec, you can't just talk about a specific feature,' Moufarrej says. 'You are talking about a whole system that meets all of your production needs. And, unlike other systems that require third-party equipment to work properly, Calrec consoles are built to support you on the ground and work alongside whatever equipment is in operation.
'Also, we purchased an extra Calrec Hydra2 analogue I/O box, which connects to the studio by a fibre-optic cable to make the application even more flexible and easier to handle.'
'Calrec is helping Hedgehog raise the bar on HD television production in the Lebanese market,' says Calrec Middle East & Africa Sales Manager, Anthony Harrison. 'Previously chiefly a postproduction facility, Hedgehog is now making a big splash in the broadcast market as well.'
More: www.calrec.com