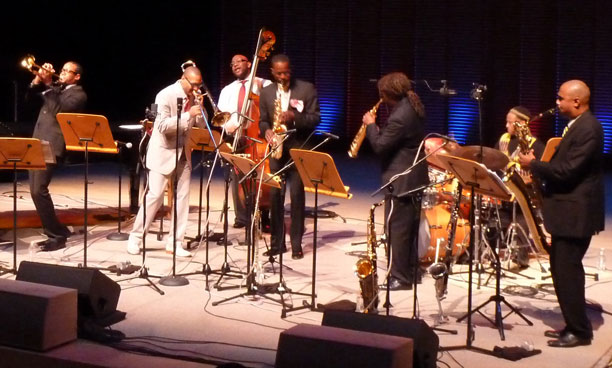 Held in conjunction with BluePort Jazz, the Soka International Jazz Festival saw seven groups recorded in DSD256. The highest-resolution digital audio format presently available, the recording used a Merging Technolies Pyramix 8.1 and Horus connected via Ravenna to record 12 channels of 11.2MHz Quad-DSD.
The setting was the Soka Performing Arts Center at Soka University in California, where the acoustics were designed by Yasuhisa Toyota – the designer of the Walt Disney Concert Hall in Los Angeles and the Suntory Hall in Tokyo.
BluePort's Jim Merod was on hand to produce the recording with Joe Kubala operating the equipment. Merging Technologies' Dominique Brulhart provided necessary instruction and shot photos of the proceedings.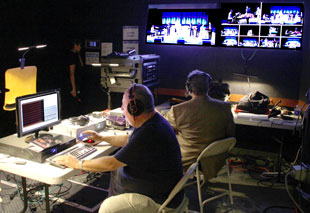 'The sonic quality of Merging Technologies' Quad DSD is impossible to fully summarise,' said Merod after listening to several sets from the musicians. 'However, one can honestly assert that dynamics are more life-like than any previous audio standard I have used. The harmonic complexity carries more delineated tonal nuances and the staging is true to the event –a vivid sense of "you are there" defines sonic capture.
'Although the drawback at present with Quad DSD recording resides with the need to deal with its glorious transparency and accuracy in PCM, the fact remains that sonic transfer from quad- to double-DSD reveals enhanced signal information not as mere data (technical details implicit or virtually available) but clearly rendered with relaxed musical clarity that approaches explicit analog delicacy.'
'This was the dream situation,' adds Dominique Brulhart, Merging Head of Software Development. 'Great musicians, fantastic hall and Merging equipment recording in DSD256. This is really the closest representation you can get to the thrill of being there.'
The recordings from Soka will be mixed down by Joe Kubala and made available in time for AES by kind permission of Jim Merod and Delfeayo Marsalis.
The timing of the recording was fortuitous as DSD and DXD are hot topics at the forthcoming New York AES Convention. The first event to take place is prior to the show at The New School Jazz Performance Space. Entitled, Move Over PCM and Make Room for HiRes DSD and DXD Audio, the panel will feature John Newton from Soundmirror and Morten Lindberg from 2L, discussing their experiences of recording in these formats. Both have received Grammy nominations and awards. This precedes the AES Workshop W24 – Extreme DSD and PCM Resolutions Compared. This event will be chaired by Dominique Brulhart and will again feature Lindberg and Newton at the Jacob Javits Convention Center.