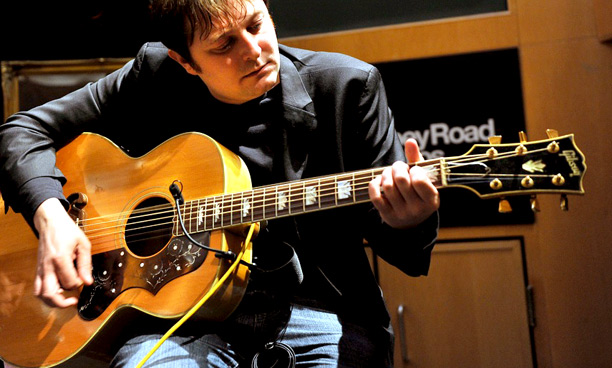 Supporting their sixth album release, Bloodsports, British Indie-rock stalwarts Suede recently recorded a live acoustic session for Absolute Radio at London's Abbey Road studios.
The recording equipment line-up for the session included three DPA d:vote 4099 Instrument Microphones, which were chosen 'for their clarity and exceptional audio quality'.
Suede's Neil Codling, who plays keyboards and rhythm guitar, was instrumental in the choice of microphones, specifying them for his own Martin D28 guitar and also for Richard Oakes' Gibson J200 lead guitar and Matt Osman's Dean acoustic bass – UK distributor Sound Network was happy to supply the mics.
'In an ideal world, a microphone should almost disappear, allowing the sound source to reach the listener's ear unimpeded, dissolving the artifice of a recording,' Codling says. 'Like the best condenser mics, the DPA d:vote 4099 Clip Microphones capture what is happening in the room with clarity and life, putting you there, in the path of the shifting air. The wonder is that, wherever you place them, d:vote 4099 microphones give you a sound you can build a mix around, or incorporate into a mix without fuss. It's as if they have one enormous sweet spot.'
Codling was introduced to DPA Microphones by FOH engineer Jamie Orchard-Lisle, who is closely involved with the chamber orchestra Penguin Café, of which Codling is also a member. 'When I have downtime from Suede, I play in Penguin Cafe, which has a different acoustic flavour: violins, viola, cello, double bass, ukuleles, Venezuelan cuatros,' Codling says. 'Whatever you point the DPA d:vote 4099 at, they seem to capture the essence of the instrument, its subtle timbres and the full breadth of its dynamic range. You get warmth without boom, intimacy without overpowering mids, clarity without brittleness. You just point them at the sound source and they sound great.'
Getting the opportunity to the mics for the Abbey Road session was something Codling jumped at – and he also enjoyed being able to acquaint other members of Suede to DPA's high-end audio quality: 'When you introduce someone to DPA microphones for the first time, there's always an exchange of looks on first hearing that says "wow, this sound special",' he says. 'Even when you first set them up, it's as if you've reached that point where you say 'don't touch a thing: that's perfect.' It's a happy knack, and you just have to hit Record, and enjoy it.'
More: www.dpamicrophones.com