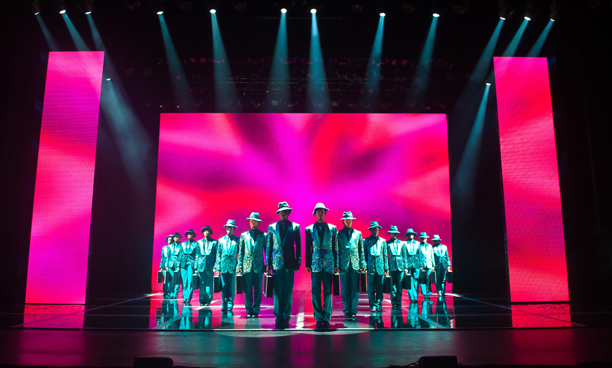 Currently on the road with Big League Productions, the hit musical Dreamgirls' 21-week show schedule will take it from the US to Tokyo and Osaka in Japan. With sound design by Matt Geasey and Mike Tracey, Orbital is responsible for the supply and support of its sound system.
Dreamgirls' big sound is delivered by the d&b audiotechnik V-Series speaker system, chosen for its compact yet powerful design, complemented by a Yamaha CL5 mixing console. The touring system comprises 14 V8 cabinets, four V12s and four V-Subs, which can be flown or ground-stacked to accommodate an individual theatre's requirements. The main system is driven by d&b D12 dual-channel amplifiers and complemented by d&b E6 fills.
The story is based loosely on R&B acts such as The Supremes and James Brown, and follows the fortunes of a female singing trio from Chicago. For Geasey, Dreamgirls combines the sound quality demands of a big Broadway production with the challenges of a national city tour. The high-end choice of equipment is delivering an exceptional sounding result: 'This was an exciting show to work on, with the brief from Big League Productions being to create a brand new sound design that would wow the audiences,' he explains.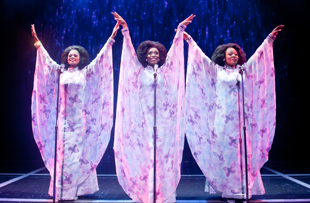 'The sound design is the only completely new element to the show, and we wanted the freedom to specify a high-quality system that would do it justice. The d&b V-Series delivers just that – it's an amazingly innovative product that is perfect for touring with its compact and flexible configuration options.
'We've had great support from the Orbital team at every stage – from the system build in their shop, through to the ongoing technical support, including integrating a new frequencies set from their RF guru, Jeff Hahn, for each city, which is enormously helpful. Tim is doing a fantastic job of mixing the show, keeping it as consistent as possible between venues.'
Dreamgirls' No 1 operator Tim Riggs spends a lot of time behind the show's Yamaha CL5. Already very familiar with the Yamaha concept, he has been working the board hard, and reports that it is turning in a solid performance.
Mixing the show is a challenging task, as he explains: 'This show feels like a runaway train sometimes – it keeps going non-stop all the way through. The challenge is to keep it exciting for the audience without wearing them out. While there are the obvious big production numbers, there are also lots of intimate moments, and we really do use the system's full dynamic range to ensure that you can hear the dialogue wherever they are on stage.
'It is a tough job to get it right, particularly with regard to the clarity of the vocals, when we have so little time in the same venue,' he continues. 'There is one song called 'Family', which is my benchmark moment – this is when I know if I have got it just right. When the music ends, there are just five members of the cast signing in harmony. If the audience responds with "oohs" and "aahs", I know we have nailed it.'
The sound design also specified a Shure UHF-R wireless microphone system, principally using the UR1-M micro bodypack transmitters. Other components include MOTU Digital Performer 8, which is used for time code and backing tracks. For the show communications system, the team is using the Clear-Com Tempest. Local sound technicians are usually called on to help with each set-up, with one of them remaining on-hand during the show.
Overall, Dreamgirls' logistics are impressive, involving a cast of 25 and four tightly-packed trucks. As an example, one of the leads, Dina, changes costumes and wigs 16 times within one performance! Simply getting from venue to venue can also be a challenge, with the tour making its way to Anchorage in Alaska –a one-week truck drive each way through Canada.
See also:
d&b audiotechnik V-Series line array