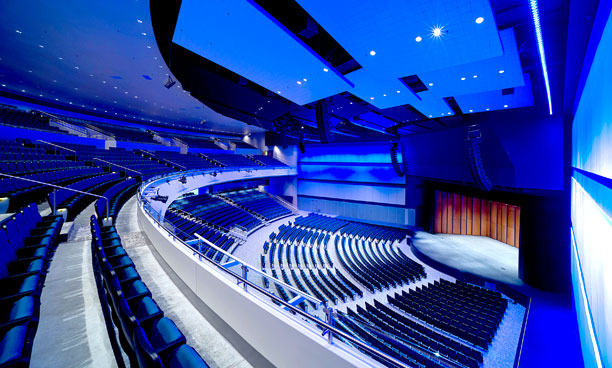 When planning its new facilities, the Mansfield Performing Arts Center faced a dilemma – requiring a large auditorium and a smaller performance hall, the available budget would not support both.
The solution lay in the multi-use Cunningham Performance Hall of the Mansfield ISD Center for the Performing Arts, which uses a Meyer Sound Constellation acoustic system to provide acoustics for its varying room configurations and programmes…
While the performance hall holds 5,500 in its open configuration (mainly to accommodate graduations), seating is reduced to 4,200 when moveable walls slide out to form twin 650-seat lecture halls on each side, and reduced further to 1,800 when a thick acoustical curtain closes off the balcony for concerts. However, the 1.3s of reverberation time resulting from the curtain makes the room too dry to support unamplified concerts such as orchestra and choir.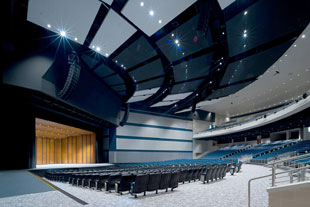 In response, BAi Principal and President Charles Bonner and Acoustician Andrew Miller encouraged Dr Russell Sanders, the district's director of fine arts, to investigate the Meyer Sound Constellation system at nearby Temple High School. 'I was astonished,' says Sanders. 'The system created a transparent and supportive acoustical environment throughout the performance hall.'
The Cunningham Performance Hall's Constellation system is built around a core D-Mitri digital audio platform with eight processing frames, including three processors for hosting the VRAS algorithms. Two dozen microphones placed on stage and around the hall pick up the stage and room's acoustics, and the DVRAS processors produce augmented early reflections and reverberations that are delivered by 95 Meyer Sound self-powered loudspeakers and subwoofers. Eleven different acoustical presets of varying reverberation times are available on a touchscreen interface.
'There is absolutely no way we could use this space for live musical performances without the Constellation system,' Sanders says. 'The acoustics created by Constellation give kids the experience of performing in a world-class facility. In addition, the technology allows us to fine-tune the natural acoustical environment to suit whatever we are doing in the space.'
The new hall now serves as a concert venue for dozens of school programs and high-profile community events, including a major church-sponsored program and a recent fundraising concert by the Dallas Symphony Orchestra.
Infinity Sound handled system integration for the centre's A/V systems, including the Constellation system.
More: www.meyersound.com