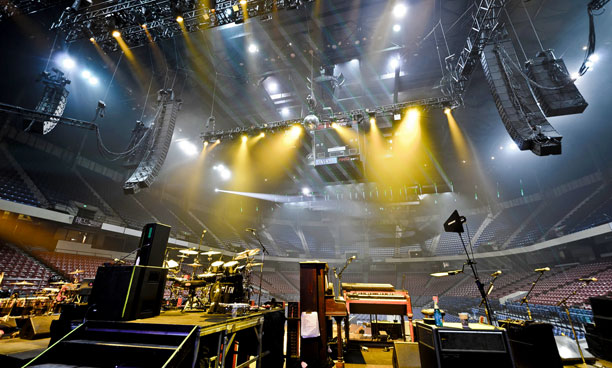 Kid Rock's Twisted Brown Trucker are out on a two month arena tour of the US, supported by Buckcherry and Hellbound Glory – and Sound Image's L-Acoustics K1 PA system.
Marking the 2012 album of the same name, the Rebel Soul tour finds Steve 'Half Pint' Cross at FOH for the sixth year, along with John 'Haircut' Tompkins serving as systems engineer and audio system tech Vic 'Beaker' Wagner assisting with PA set-up and optimisation.
Similar to the touring system from Kid Rock's Born Free tour with Sheryl Crow, the main house system is comprised of left and right arrays of 14 L-Acoustics K1 elements flanked by adjacent arrays of six K1-SB subs and out fill arrays of nine Kudo cabinets. New to this tour is the use of three Kara elements per side, replacing dV-Dosc elements and hung from the bottom edge of the K1 arrays for down fill.
To create extra punch – particularly during the tour's hip-hop- numbers – eight front-firing SB28 subs are positioned on the arena floor below each of the main hangs in two horizontal stacks of three, plus two on end. A dozen LA-Rak touring racks, each loaded with three LA8 amplified controllers, provide loudspeaker processing and amplification.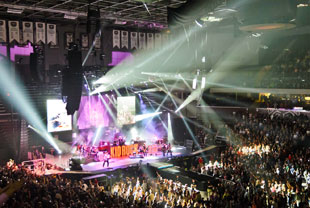 'Although our arena system is very similar to the one we took out two years ago, the use of Kara on this tour has been a big step up,' says Cross. 'When walking from the mix position to the front, the transition between our K1 mains and Kara down fills is so smooth that I can't definitively tell when I cross over; the two systems are a fantastic match. Kara's lower weight, captive rigging, and smoother off-axis response are all great improvements as well.'
This year's system also differs in that it's the first time the production crew has kept the audio signal chain entirely in the digital domain: 'I'm feeding the digital input cards of the LA8s with the AES output from my Avid Venue Profile console, which has worked very well,' Cross notes. 'Although it's hard to be sure without a direct A/B comparison, it really feels like the system in general sounds better and more present. I'm very happy with it.'
Kid Rock seems equally pleased with the rig: 'He's very dialed into the system,' Cross says. 'On many days, he'll walk out onto the stage thrust, pull out his in-ear monitors, tell the monitor guys to shut off the stage wedges, and sound check out there in front of the system, critically listening to it and giving us input. Sometimes he'll even come out to front-of-house with his mic to work on a song. He's very involved and extremely aware of system subtleties that most artists trapped onstage rarely have a clue of, and he's a been a big advocate for us using L-Acoustics.
'K1, Kara and Kudo are absolutely my first choice as well,' he adds. 'Out of all the systems I've mixed on, this one is by far the most consistent and natural sounding. Most line arrays are capable of getting quite loud, but few sound truly natural with minimal EQ at all horsepower levels. If Bob [Kid Rock] plays an acoustic song running at 95dB, I still want the PA to sound full and robust. Many systems tend to thin out and perform poorly at softer volume levels, but with K1, I can ramp up from intimately quiet to full-on loud with the same response the entire way.'
Cross compliments the latest versions of L-Acoustics' SoundVision acoustical modelling software and LA Network Manager control software in the hands of Tompkins and Wagner: 'By the time I am handed the system every day, regardless of the differences in each new venue's layout and acoustical challenges, the system sounds the same as it did the day before, and the day before that,' he says. 'Those two tools have really come long way and make our lives much easier. We were all very happy with everything two years ago and are even more satisfied with it now.'
Upon completion of the current arena tour, Kid Rock and his crew will take a brief hiatus before heading back across the US with an even larger L-Acoustics system from Sound Image for an outdoor summer shed tour.