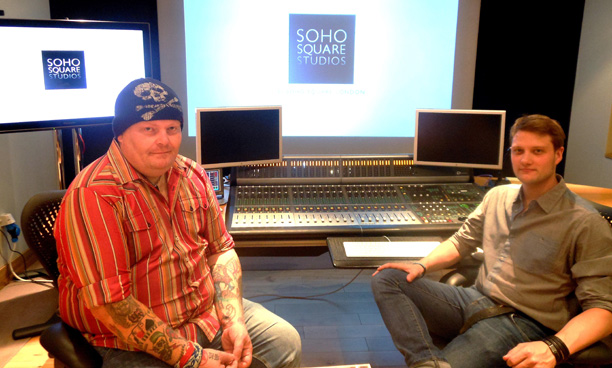 Hello Quo is Alan G Parker's 150-minute biopic on Staus Quo. The film follows the band from its 1960s origins to the present day, mixing unseen footage with familiar performances such as as 1985's Live Aid.
These are accompanied by interviews with the band's recently reunited line-up of Francis Rossi, Rick Parfitt, Alan Lancaster and John Coghlan.
While the band rocked, London's Soho Square Studios was left to repair and replace archive audio and performances, before matching restored content with new footage.
The complex sound postproduction process included repairing and replacing old tracks and providing the sound design and 5.1 surround sound mix, but the biggest challenge was ensuring that the different audio elements of the film knitted together, a task made more complicated by the age and origin of some of the material: 'Once all the material was converted to the same frame rate our job was to ensure that the audio was at the highest level of quality possible and any repair work was completed ready for the 5.1 mix,' confirms Soho Square sound engineer, Edward Sutton.
Stretched videotape and unusable audio tracks left the sound team with of wow and flutter problems as well as a myriad of different frame rates. 'In some cases the original audio was so bad that I had to go back to CD recordings and post-sync the whole performance,' Sutton says. 'Because the tape had been worn out over time I had to actually replace the audio bit by bit. You couldn't just replace the whole track.'
The post process required the use of both Avid's Pro Tools and Steinberg's Nuendo – including their various plug-ins and filters – along with tools from Waves and TC Electronic. iZotope's RX2 audio restoration suite was used extensively for noise reduction.
After the restoration work came the 5.1 mix, jointly completed by Sutton and Soho Square Studios' senior engineer Simon Capes 'My main job was to show respect to the audio's origins,' says Capes. 'There's lots of restored audio and lots of well known music. Converting it to 5.1 was all about keeping true to the original sound.'
Director Parker – whose CV includes Who Killed Nancy? and Monty Python: Almost the Truth (The Lawyers' Cut) – was in no doubt as to the value of the work that has gone into the soundtrack.
'What you see on screen is essentially what we brought back from the edit, but it was desperate for a good sound mix,' he says. 'We take a film out of edit and it's like a finished car – but a finished car with no paint, no glass and no number plate. By the time it hits the streets it has the paint and the glass and the number plate. That is what those guys [at Soho Square Studios] do. It's not a different movie now but it still sounds like a different movie even though my story hasn't changed. It's my movie but it's much slicker.'
In addition to audio restoration and a 5.1 surround mix Soho Square Studios also completed sound design work on a number of animated sequences within the film including the opening titles.
With total worldwide album sales topping 120m, Status Quo are one of the UK's most successful acts to date. Hello Quo will premier in cinemas across the UK for a one-night-only screening on 22 October 2012. It will be released on Blu-Ray and DVD on 29 October.
More:
www.sohosquarestudios.com