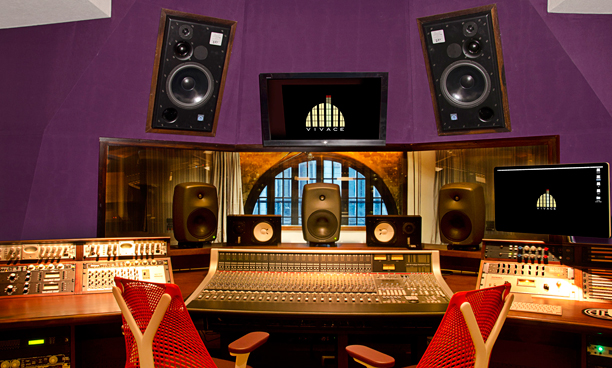 The latest big-room recording studio to open its doors has done so in the heart of Montevideo, the 'Switzerland of Latin America' in Uruguay.
Designed to welcome a wide church of music, the studio is equally suited to Latin, jazz, pop, rock and world music production. Through its flexibilty and capability, Vivace aims to establish a new standard of high-quality audio production for South America – and add momentum to the revival of the high-end recording studio.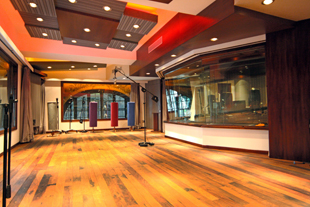 Acoustically superb, aesthetically unique and environmentally friendly, the décor of Vivace Music uses rare wood elements for doors, window trim, flooring and custom furniture, built using recycled wood acquired from ancient wooden casks originally used for the leather tanning industry.
The 1,000-sq-ft recording complex features a 450-sq-ft live room with variable acoustics and shared by two comfortable control rooms, each with it's own iso booth.
Control Room A is equipped with an SSL AWS948 48-channel mixing console, Avid Pro Tools HD workstation system (48 channels), with stereo ATC SCM 150A surround and Genelec 8050 /7070 monitoring. Control B features an Avid Command 8 Control surface and Pro Tools HD workstation with surround JBL LSR6325 monitoring. The studio also offers a substantial collection of outboard gear including preamps and compressors from the likes of API, Avalon, Manley, Empirical Labs, Neve and Teletronics, as well as numerous vintage mics and instruments. WSDG Latin Director Sergio Molho, developed a turnkey design and building programme which engaged local resources for technical and specialty item finishes, and an experienced studio construction crew to insure critical isolation. Grammy-winning engineer/WSDG Brasil partner/GM, Renato Cipriano, coordinated final tuning and certification of the ATC monitoring systems.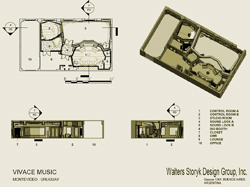 'The acoustic qualities and isolation developed by WSDG enable us to work at any sound level without concern for extraneous noise entering the studio or leaking out to our neighbors,' explain studio co-founder/partners Cesar Lamschtein and Louis Cesio.
Vivace Music adds further international support to a succession of big-room music recording studios that have been opened during 2011 and 2012, reviving the high-end recording market that had been so badly damaged by the emergence of project studios equipped with 'affordable' digital recording equipment.
With new studios operating in North America, South America and Europe, as well as Hins Cheung's facility in in Guangzhou, ongoing projects in China look set to add futher to a new international recording scene.
See also:
Case Study: MonkMusic Studios, New York
Case Study: Village Studios, Guangzhou
Case Study: Thompson Studios, New York
Case Study: Jungle City Studios
Case Study: Green Road Studio
Sound Temple joins Big Room Revival
nhow Brings New Recording Experience to Berlin
Studio 85 Opens Its Doors In Paris
More: www.wsdg-ftp.com