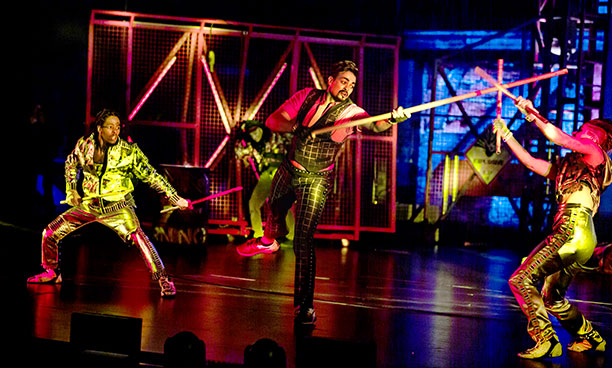 Cirque de Soleil's latest production R.U.N continues to flip theatregoers expectations at the Luxor in Las Vegas. A live-action graphic novel, R.U.N delivers back-alley fistfights, bike jumps, car chases, high falls and body burns, the sounds of which are captured though the inventive use of Point Source GO-8WM microphones.
Shifting from the ethereal acrobatics that has defined Cirque, R.U.N is a stunt show with special effects that pulse with physicality you can hear and feel– a ground-and-body-breaking spectacle, forged from the sonic vision of globally renowned sound designer Jonathan Deans.
This is the 15th Cirque du Soleil show for Deans, whose Cirque collaborations have helped shape the modern circus legacy. This one came with its own challenges: 'With dozens of people engaged in slamming, brawling action, live Foley is nearly impossible,' he explains. 'It just can't be predetermined down to a beat because they'd hurt themselves and no one would be ready.'
Deans says he had a light bulb moment with Point Source GO-8WM moldable microphones, which can be shaped into collar, halo, or headset mics. 'We selected about eight artists and put the microphones on top of their heads,' he explains. 'They're running around like microphone stands, if you like, with the mic in close proximity to their physical noises – you know, the bang, punch the hunh!'
Point Source GO-8WMs feature miniature 3mm omni capsules, which pick up sounds all around the performers, and can handle up to 136dB SPL. 'The sounds are natural because they're actually fighting,' says Deans.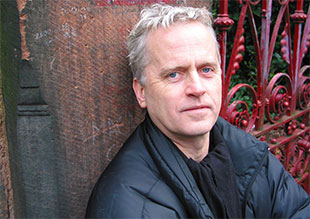 R.U.N features the furious, frenetic music of composer, guitarist, and producer Tyler Bates and Deans couldn't be more delighted. 'The music he writes very much speaks for a certain way of approaching the sound system,' he says. 'It was very easy for me to lead the sound system to encapsulate his style of music and implement it into a Cirque show – knowing that this particular run is not a usual Cirque show.'
With a film noir-style voiceover, R.U.N is about motorbikes, fights, and is very in your face: 'R.U.N incorporates mini movie clips and Tyler's tracks – meshed with thousands of sound effects – to lead the audience into the scenes,' says Deans.
Live sounds and recorded tracks are supplemented by a DJ onstage who triggers and sometimes manipulates sounds live, and a live guitarist.
Deans says Point Source GO-8WM mics shine onstage with R.U.N for many reasons. First, they offer superior fidelity. 'I need good quality,' he says. 'I want to be able to capture the true sound of what's going on.'
Point Source GO-8WM mics are unconventionally malleable: 'We could just shape them to whatever form we wanted, not knowing exactly how the performers' moves would work and whether they would feel comfortable about how it would be best placed on them,' he explains. 'Both the location of the transmitter and how the microphone gets to a place where we need them to capture the sounds – not just of the performers themselves, but the sound around them. I needed a microphone with some kind of rigidity that I could bend to whatever shape was needed, as opposed to a basic shape around the head.'
And Point Source GO-8WM mics, like Cirque's stunt artists, can take it. The GO-8WMs feature a proprietary Lemo-style connector; Deans appreciates that its rugged strain relief doesn't snap like so many others. 'It's perfect,' he says. 'We've got these people doing all these physical things that are crazy for most people. I needed something that could withstand the abuse the microphone and connector would be getting.'
The mics are also IP 57 waterproof rated. One Cirque performer went as far as to test that quality by putting the mic up his nose and miking the noises in the back of his throat, then placing it on a tip of a sword before swallowing the whole thing. Deans says these experiments resulted in rather terrifying internal grumblings that speak to a whole new world of possibilities in theatre sound someday. ('Talk about waterproof. And, it was good.') Don't try this at home, kids.
Deans, in all his years with Cirque, is still challenged and still inspired. And thanks to Point Source microphones, he's able to turn unorthodox miking ideas into reality. 'That's how we do it! We're not trying to mic a singer or someone talking. It's a completely unconventional way that we're using microphones.'