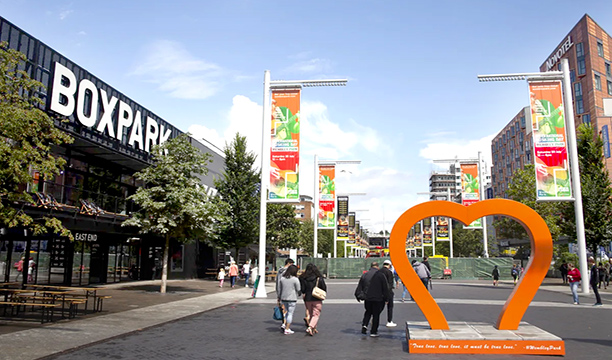 Celebrating the world's best street performers, International Busking Day took place for the fifth time during July. The free event was held at Wembley Park and produced by Found in Music Ltd as part of the Busk in London programme. It featured five stages, including the Main Stage on Olympic Way and indoor venue, Boxpark Wembley.
Sennheiser was there to support the event and give the artists and visitors the chance to get a hands-on demo of its evolution wired 600/800 and 900 series microphones, as well as the new XS Wireless Digital wireless and in-ear monitoring systems. The team also conducted a series of talks held in The Corner at Wembley Library talking about the importance of audio in the live music environment.
As well as 50 acts performing, there were guest performances from UK indie rock band, Noisettes and headliner, Brit Award winner and Grammy/Mercury Award nominee, KT Tunstall.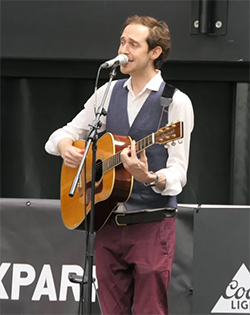 Sennheiser set up a demo room in Boxpark's BeatBox, where Andy Egerton and John McGregor were on hand to help visitors with trying out the systems and to answer any questions. Sennheiser also organised a competition where a number of lucky attendees could win an XSW-D Instrument Base Set and a pair of IE 40 Pro IEMs.
'Choosing the right audio system can be nerve-wracking for anyone, especially the new artist,' says McGregor 'When you get all the elements right, it offers additional comfort and confidence even before the artist goes on stage, as they know the system is going to sound right every time they perform. International Busking Day was an ideal opportunity for the artists to try the systems out first hand, but another way of gaining this knowledge is through online courses. Sennheiser's Sound Academy offers just that, with its tailor-made packages where people can receive expect advice and sign up to a wide selection of free and paid international seminars.'
'The day was a great success,' adds Egerton. 'Our talk, which was moderated by writer and broadcaster Paul Sexton, was well attended and we had a lot of people come through BeatBox. A lot of artists have started their careers as buskers and it is becoming an increasingly respected form of entertainment. It is really gratifying to see events such as this continue to raise its profile and help busking gain the respect it deserves.'
'Having a globally respected company like Sennheiser support our event is really important,' says Kate Jones, Programme Director, Busk in London. 'We've worked very hard to help generate interest in busking and there are now events held all over the world. Having manufacturers show an interest in what we're doing really helps to give more credibility to the artists we support.'