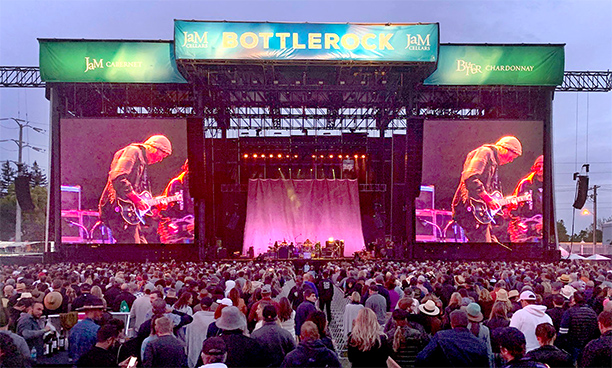 Vying for prominence with North America's finest vineyards in their ability to attract visitors, the Napa Valley Expo's annual BottleRock music festival marked its seventh anniversary this summer, promising 120,000 attendees 'the first taste of summer' with an eclectic line-up of more than 80 top artists performing on five stages.
Termed 'the fancy Coachella' by Bruno Mars during his headlining set in 2018, the festival welcomed a new L-Acoustics K1/K2 loudspeaker system to its main stage and expanding the use of Vue audiotechnik's Acoustic Linearity system to include the Firefox stage.
The L-Acoustics system provided by the festival's primary audio and lighting provider, Delicate Productions, for the main JaM Cellars Stage comprised LR arrays of 12 K1 topping four K2 down fills per side, flanked by adjacent out fill hangs of eight K2 elements each. A total of 32 SB28 subs were groundstacked below, two high and four deep in an end-fire configuration, while two delay towers containing eight K2 each were positioned out in the audience area.
Front fill was delivered by 12 Kiva II spread out across the stage lip, while three ARCS II on the far left and right of the stage provided out fill. Stage side fill was accomplished by left and right stacks of three further ARCS II positioned over two SB28, and LA8-equipped LA-Rak units powered the system, except for the subs, which were driven by LA-Rak II loaded with LA12X amplified controllers.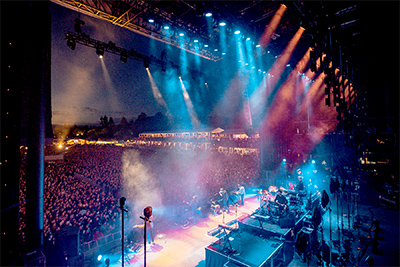 'Although we've had L-Acoustics gear in our inventory for the past six years – initially starting off with 24 K2 and 16 SB28 – this was the first year that we had deployed L-Acoustics systems on BottleRock's main stage and it was complete success,' reports Delicate Productions President Jason Alt. 'Imagine Dragons, Neil Young, Mumford and Sons, and many others performed on the K1/K2 rig there and it sounded absolutely great.
'But the unique thing for me was hearing Vintage Trouble, who had played the festival's main stage a few years ago, and remembering the band's FOH engineer struggling a bit on the former PA. This year, he dialled up a great mix in a very short period of time with no sound check, which goes to show that L-Acoustics really makes a much more musical sounding system than what we had previously deployed there.'
Although the main stage audience area is 700ft deep from the main hang to the back fence line, not to mention 500ft wide, Alt notes that the L-Acoustics system delivered beautifully blanketed coverage across the space. 'We positioned a pair of delay towers at about 300 feet out, but it's really quite remarkable how far the K1 and K2 systems can throw and still sound amazing. I walked the audience area to critically listen, not only during the setup but also a few times during the festival, and it had plenty of presence and fidelity throughout the space.'
But one of the nicest parts about the system, according to Alt, was where it did not throw. 'My favourite response that I heard was from the festival promoter, who told me how much better the coverage was this year and how few noise complaints they received from the neighbours,' he says. 'And that was amazing because the stage right side of the main stage was less than 300 feet from the surrounding neighbourhood. So it was a success on all counts.'
Much of that success can be attributed to arriving on site with a solid system design created in L-Acoustics Soundvision. Alt notes that the design was a combined effort by Delicate's Bryan Bazilsky, Vic Wagner from L-Acoustics, and Joe Fogarty from US Audio, which provided additional elements to complement Delicate's system.
'The drawing that the festival supplied gave us a good starting point,' he says. 'Bryan and I would discuss the goals for noise mitigation and SPL, and Vic would send back ideas on how to achieve them. It was a very fluid process. Once we were on site, we had to modify the subwoofer deployment because of changes that happened with an added DS ramp/stairs and a swimming pool of water from all the rain in the week leading up to the festival. We decided to elevate the SB28 on pallets under the stage and do an end-fire sub design to achieve the SPL goals as well as steer the low end away from the neighbours. This all came together on site. Soundvision, being such a powerful tool, gave us the ability test a few ideas before we deployed them, which was invaluable.
'Really, there are three things that I love about L-Acoustics for BottleRock: the global acceptance of K1/K2 by the artists, how fast the system goes up, and how Soundvision rapidly and accurately guides us to accommodate last-minute changes to the design when needed. Add to that the excellent service and support from the manufacturer and we couldn't be happier. We are truly proud to be part of the L-Acoustics family.'
Elsewhere on the festival grounds, the VIP rest area had four short-throw L-Acoustics X12 boxes to cover the tented space, while smaller X8 were used at the Platinum entrance, Aflac activation, and in the pressroom. Additionally, pairs of Syva enclosures were fielded in the Platinum Lounge, a backstage VIP compound, and Monkey Shoulder scotch whiskey's Porta-Party 'speakeasy' pop-up that featured surprise sets from world-famous DJs, including Paul Oakenfold and Crystal Method, in an intimate 30-by-30ft tent.
Bai and Firefox stages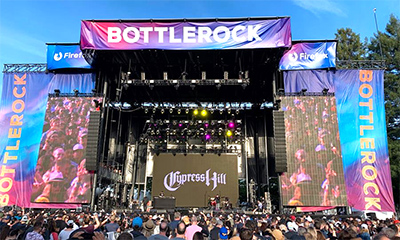 In addition to the secondary Bai stage, which has featured a Vue al-Class Line Array System for the past five years, Delicate expanded the use of the Acoustic Linearity system to include the larger Firefox stage. Aside from accommodating headline act Pharrell William's rider, the expanded Vue presence enabled Delicate to improve coverage and the sonic experience across two premiere stages, while maximising capacity and revenue for the event organiser, Latitude 32.
'We've run a Vue rig on at BottleRock for the past five years with great results we were excited to deploy another Vue system on the larger Firefox Stage. It fulfilled Pharrell's rider, and we knew we would set an entirely new benchmark for performance on that stage,' Alt elaborates. 'What's more, we knew that the Vue al-Class could easily meet hang-weight limitations, while also ensuring consistent coverage across the entire audience area–without the need for delays, which take up valuable real estate that could otherwise be used for audience space.'
Vue Touring Sound Manager Shawn London worked with the Delicate team on the Vue rigs for both stages: 'I've known Shawn for more than 20 years and having him on-site made me super comfortable,' Alt says.
The Firefox stage main system covered a throw of more than 350ft using LR hangs of 16 al-12s. FOH low-frequency support was provided by 28 hs-221 ACM infrasonic dual 21-inch subwoofers. Front fill was courtesy of six al-8 elements positioned across the front of the stage. The 16 discrete monitor system used a combination of Vue hm-112, hm-115, and hm-212 stage monitors along with four al-12s on top of two al-12SB dual 18-inch subwoofers per side as side fills. A combination of rack-mounted and onboard VueDrive Systems Engines handled all power and processing for the FOH system and stage monitors. All the DSP/amplifiers were controlled over an Ethernet network using SystemVue software.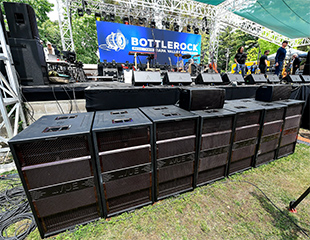 The Baja stage's more intimate environment's main system comprised two hangs of eight al-12 elements each with support from 14 hs-221 ACM infrasonic subwoofers positioned in front of the stage. Six h-208 low-profile high-output systems were placed atop the row of subs for front fill. On stage, 12 discrete monitor mixes were delivered by a combination of Vue hm-112, hm-212, and hm-115 stage ultra-definition monitors delivered 12 discrete monitor mixes on stage. Three stacks of h-12s on top of hs-28 to provide drum monitor and side fill. An additional pair of h-12 high definition systems provided VIP-area support.
'I make a point of walking every venue to ensure it sounds great everywhere, so it's important to have the manufacturer's support to help optimise configurations and adjustments to maximise the listener's experience,' Alt says. 'When I walked the venue on the last night of set-up, I noticed the crew had been a little too conservative with the tuning, but Shawn was receptive, made some adjustments and when we handed it over to Pharrell's engineer the next a.m. it sounded perfect.'
'Most concert arrays struggle to work well beyond 300ft from the stage,' Shawn London elaborates. 'All the way out to the 300ft mark, the Vue rig was still performing well, the vocal's stayed close, and everything was tight with no break-up. The array configuration really worked in terms of minimising top-end fall-off at a distance. It was great to be able to get 30 plus FOH mixers in front of the al-12s.'
According to Alt, visiting engineers expressed excitement over the expanded Vue presence – some having mixed on Vue in the past with great success, as well as other who were looking forward to finally being able to mix on the Vue al-12 PA. No one was disappointed. 'Many of the engineers said the clarity of the boxes was amazing and was almost like mixing in front of near fields. We also got lots of great comments on the subs and how tight and punchy they were. Overall the Vue rig met or exceeded all our expectations, and the client was thrilled.'