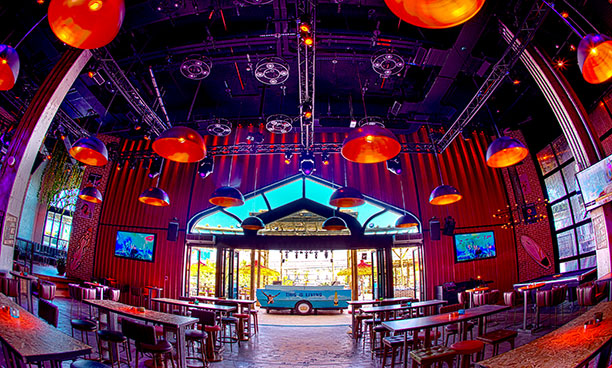 The latest addition to Dubai's Atlantis, The Palm Hotel is Wavehouse is a family-friendly entertainment centre offering four bowling lanes, two floors of arcade attractions, a 13m-high soft play area and a ProSlide Waverider surf machine, as well as F&B outlets, a sun terrace, mezzanine and a pair of live stages.
Wavehouse's operator, Solutions Leisure, has had a longstanding relationship with Dubai-based systems integrator, Pulse Middle East, relying on the company to handle the audio integration at a number of its other venues. As such, Solutions Leisure contacted the team at Pulse ME to create a solution for the former nightclub space.
'The team at Solutions Leisure invited Pulse ME to come and have a look at a venue,' says Pulse Middle East MD, Joe Chidiac. 'After the audio requirements brief, the team at Pulse ME presented a competitive and creative sound system to land the project and hopped onboard with three months to design, install and integrate the sound system of this enormous space.'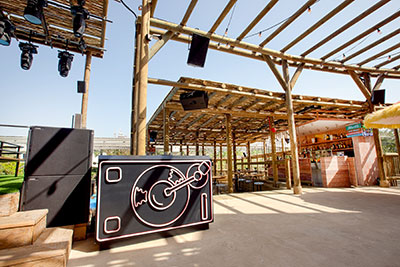 Covering such a large and diverse space required a high-quality networked audio solution that would be able to adapt to the needs of the changing clientele throughout the day. The solution designed and installed by Pulse ME is based upon the qualities of a variety of different TW AUDiO cabinets.
'We were asked to design a multi-zone sound system where it's possible to play any source in any zone, with different requirements for the bandwidth and achievable SPL in each zone,' Chidiac explains. 'There are two stages – one inside and another outside. These zones in particular required a high dynamic range, for which we deployed T24Ns, backed up by an array of three B30s in the centre under the stage inside. Outside, we used five T24s to cover the whole area in front and to the back of the stage, along with four S33s for high output and pattern control.
'The transition between the setups of bands playing on different stages, DJs or TV must be seamless,' he continues. 'Therefore, firstly speaker placement had to be carefully considered to allow the whole venue to get adequate sound coverage considering an audio focal point of either stage. Then, delays and levels had to be set correctly for each of the three modes to change the focal point. With T24Ns used as the main speakers, we used T20s, M12s and M10s to provide high output coverage to the rest of these zones as delay speakers.'
Inside, further T24Ns have been installed, alongside C5 multifunctional loudspeakers while the restaurant areas are covered by M8, M10 and M12 enclosures. 'We used TW Audio speakers for their high quality, not only in terms of sound, but also build quality and longevity,' Chidiac says. 'Additionally, the speakers provide exceptional SPL output for their size, making them easy to integrate into a venue with minimal visual impact, as well as being a cost-effective solution when compared to line arrays which may have otherwise been specified.'
As expected of a project of this scale, there were challenges for the Pulse ME team. 'The sheer size of the venue was one challenge, meaning that cable lengths were a concern from the beginning,' Chidiac confirms. 'We decided that it would be necessary to use two separate A/V rooms in order to minimise cable losses and for reasons of practicality. Helpfully, the Powersoft amplifiers come with damping control to compensate for some of these cable losses and maximise damping of subwoofer drivers.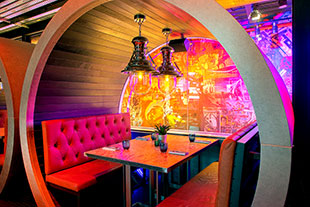 'The next challenge was the speed of the construction phase,' he continues. 'This venue was built in a very short period of time. Site conditions were changing on a daily basis, with entire new floors being built in a matter of days. Constant site presence was necessary to ensure all the conduits, cables and supports were in place before areas were getting completed and closed off. There were also regular revisions to drawings based on site condition, in order to minimise visual/spatial impact of the sound system while maintaining consistent coverage throughout.'
The team also faced a challenge in setting up and tuning the final system. However, this is where the qualities of the TW AUDiO loudspeakers have proven to be a real advantage. 'With the multiple operation configurations, the system had to be tuned three times,' reveals Chidiac. 'With the TW AUDiO speakers, adjustments to equalisations were kept to a minimum as they sound great straight out of the box. This is particularly important when dealing with such a large multi-zone venue, as having to make large EQ adjustments to every individual speaker would be very impractical, messy and slow.'
In total, 63 TW AUDiO loudspeakers have been deployed across Wavehouse in an installation project that ran for just 12 weeks. With each model specifically selected to meet the needs of the area it was covering, Pulse Middle East has ensured that Wavehouse has the best possible sound.
'Everybody involved is thrilled with the outcome,' Chidiac concludes. 'Wavehouse turned out to be a great looking venue with amazing sound that serves all requirements requested by the client. It was a challenge finding the best way to tackle this venue, but after planning it out, the team and I were so excited to see it come to life. Wavehouse is a project we are very proud of at Pulse ME, and believe it will be a true crowd pleaser.'