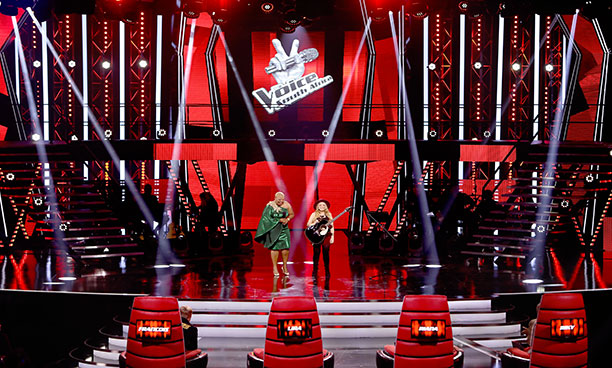 Now in its third season in South Africa, The Voice talent show entered its 'live show' phase, broadcast from Mosaiek Teatro in Fairland, Johannesburg, and aired on M-Net, DStv 101. This year, this section will use L-Acoustics' L-ISA Hyperreal Sound technology by L-Acoustics and DiGiCo mixing from Mutli-Media, the show's technical supplier.
Multi-Media has worked with The Voice since the competition hit African soil four years ago. During this time, the company become more involved in live events. Having invested in 30 L-Acoustics Kara, 12 SB18, four KS28 and seven LA12X amplified controllers at the start of the year, it has added a further 18 Kara, four SB18 and five LA12X for the L-ISA configuration.
Early in his career, Multi-Media audio engineer Adriaan van der Walt recognised the limitations of stereo systems when trying to create a natural sounding mix: 'I jumped at the opportunity to work on quadraphonic and surround shows,' he says. 'These were few and far between, and some had greater levels of success than others. There was generally very little correlation between the setup in a studio and a large format PA system - it was really hit and miss! Then L-ISA caught my attention and I knew it would be a game-changer. L-Acoustics is a brand I trust and is always leading edge, setting trends and standards for the rest of the industry to follow. For me, moving to L-ISA was a no-brainer. I knew it would have huge benefits for a strong production like The Voice. When I presented the idea to the production team, they were convinced, too.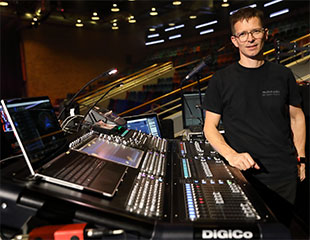 Van der Walt and DWR's Chris Pugh travelled to the manufacturer's head office near Paris for a four-day L-ISA training session: 'It was very informative with a great deal of information to absorb, but the friendly and welcoming spirit that is present at L-Acoustics made it a special experience for me,' he says. 'I had dreamed of visiting L-Acoustics for 15 years, and Adriaan and I couldn't wait to get back to South Africa to get started.'
The Mosaiek Teatro configuration sees five arrays of nine Kara each, positioned across the width of the stage as a Scene system. The KS28 subs are flown centrally, providing coverage across the venue. Six Kiva II per side act as the extension system and provide a wider panorama to the audio experience. Front fill comprises two X12 and, due to the width of the venue, there are an additional two ARCS WiFo flown per side to cover the outer sides of the venue. For stage monitoring, Multi-Media's Simon Panos used two X12x flown from the lighting grid and two on the side of the stage.
Control is via a DiGiCo SD10 console running the latest firmware: 'It has a couple of new features that tie L-ISA and DiGiCo together,' says van der Walt. 'The configurability of the SD Range is incredible. I set it up so that, in no more than three button pushes, I can be anywhere I need to be and do anything I need to do. Of course, it takes a bit of time to lay it all out and programme it but, once you are in that operation mode, it is a breeze to work on it.'
The DiGiCo system integrates Waves Multi-Rack, L-ISA Controller, Multitrack Recording and a busy Optocore backbone. 'There was a lot of routing and insert patching that had to happen in the background,' he says. 'We almost managed to max out the first Optocore loop – there are only 40 audio paths left out of 500.'
For van der Walt, the SD10 is an extension of himself with the console's layout going hand-in-hand with his thought process: 'That's the beauty of it; once you've laid it out, it becomes an extension of your thoughts because you don't have to tap around to get where you need to be. You think something, you tap once or twice, and you are there.'
The Voice is a complex and busy show, sometimes with only 15 seconds between performances and van der Walt is able to jump from one to the next with great ease: 'The way the SD10 recalls fader banks over the entire console with just a Snapshot is truly amazing. We have rehearsed the show so much that it's really just about recalling Snapshots and adding fine adjustments during the live broadcast.'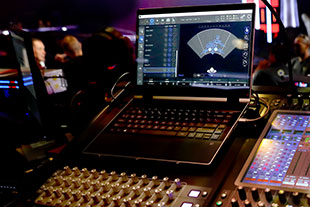 While there are familiarities in how the audio system is set up, the approach to mixing is, says van der Walt, a departure from what he is used to: 'The experience means applying yourself in a new way. Your creative input becomes more valuable with L-ISA. It gives you the opportunity to interpret the music and place things where you think they should sit spatially. It's incredible how this, in turn, affects the mix.
'The approach on The Voice is to create a pocket in the mix which surrounds and supports the talent's vocal abilities,' van der Walt continues. 'My traditional route was to make use of sub-groups; either for parallel compression for a fuller sound on drums, or to use side-chain compression on groups for guitars or keyboards. Naturally there was some compromise on how these groups sounded – to make space for the vocals to sit.
'I'm finding that I don't have to do things on the console in a traditional way, or have to work so hard on the console to get the separation I want, as a lot of that is being achieved by L-ISA technology, freeing up space and providing tonal separation that I've never had before. Now, I listen with an open mind to put a mix together, whereas before I had to work hard at EQ and dynamics and overlaying things with Groups. I can push the vocals back into the mix and still hear them clearly, without losing the finer nuances of something like the guitars or keyboards. It really sounds like there is more resolution and depth associated with each object within the immersive environment, definitely more room to move.'
The integration of different brands and different technologies has pushed the system beyond anticipation: 'L-ISA is new technology and we feel it is the future of sound,' says de Lancey. 'It really holds the audience. For the first time, we can create a scene using speakers. All 96 objects can be placed virtually anywhere in that space so you can hear where the instruments are coming from, where they are positioned on stage. If a vocalist were to walk up and down the stage, we can move the vocal to follow the artist. The system ties in what you are hearing with what you are seeing; now you know exactly where the artist is performing from.'