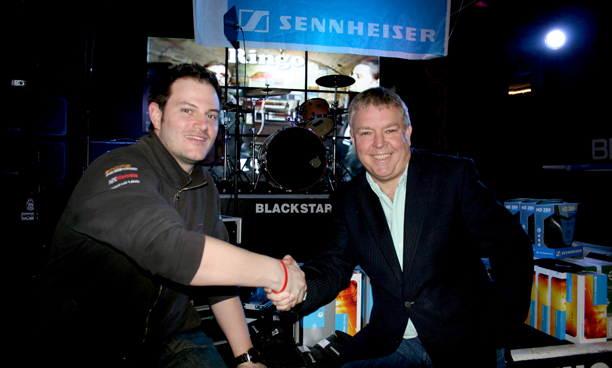 Liverpool's legendary Cavern Club – where the Beatles launched their career in the early 1960s – is now using a range of equipment from Sennheiser UK for its three stages.
'We're pleased to be working alongside "the most famous club in the world",' says Sennheiser UK Special Projects Manager, Phil Cummings. 'Our wireless systems are well-known from our support of artists on medium and large-scale tours, so this partnership gives us a great opportunity to reinforce the ability of Sennheiser's wired microphones to deliver just as much in the way of audio quality and reliability.'
One of the most instantly recognisable venue names in the world, the Cavern Club saw nearly 300 Beatles gigs between 1961 and 1963, along with hundreds of other artists. It closed in 1973, reopening in 1984 using approximately 50 per cent of the original site. Here, owners Bill Heckle and Dave Jones have combined a vibrant live venue with the club's status as a tourist attraction.
The Sennheiser kit includes four channels of ew500-935 G3 wireless microphones, four channels of ew300 G3 wireless in-ear monitors, eight e935 and four e945 handheld mics, plus a complete set of 900 series wired mics for the club's three stages, comprising 905 and 904 tom mics, a 901 kick and 902 outer kick mics.
This will be available for all artists visiting the venue and the company will also be sponsoring events including 'battle of the bands'-style competitions. In return, the days when the club has no scheduled gigs will be available for Sennheiser to host a variety of events, including shows to help students of the Liverpool Institute of Performing Arts (LIPA) to develop their skills in the live environment, along with customer training, demonstrations and roadshows.
'The Cavern is perfectly placed to put such events on for our northern customers,' says Cummings. 'We also have a long association with LIPA, so the arrangement provides an excellent opportunity to give students some 'real world' training in a legendary venue.'
The Cavern's staff are equally happy with the new partnership: 'To produce the best quality live sound, you need the best tools available. We welcome our partnership with Sennheiser with open arms and look forward to many years of success together,' says Technical Manager Ray Johnson.
'The Sennheiser gear is ideal for the wide spectrum of artists that perform at the Cavern Club, from unsigned bands, tribute acts and world-renowned performers, to private functions and corporate events,' Head sound engineer Ricky Cheung adds.
'At the Cavern, we are constantly looking towards the future, the latest technology and equipment,' co-owner Bill Heckle says. 'Welcome to Sennheiser – two world famous brands working together.'
More: www.cavernclub.org
More: www.sennheiser.co.uk