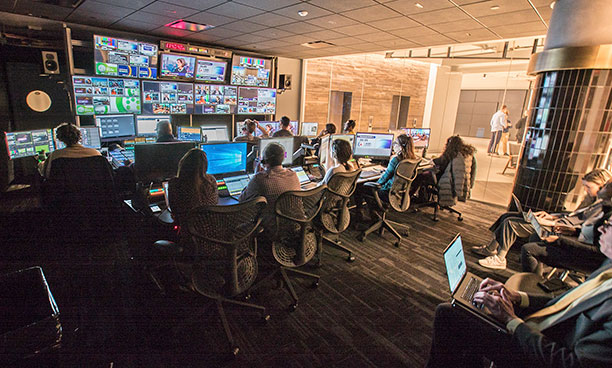 As part of ongoing upgrades and developments to its studio facilities, the Verizon Digital Media division – combining AOL and Yahoo! – has taken delivery of three Lawo mc²36 audio production consoles and a Nova37 Hybrid IP/Madi Plug&Play Audio Router for its studio facilities.
'We are scaling globally, and the ease of interconnectivity that Lawo provides has made planning for the future exciting and easy to understand,' says Dan Brantigan Head of Audio. 'I've been exceedingly impressed with Lawo's willingness to customise based on client needs, and everybody there seems genuinely excited to work through hurdles and even teach programming and intricacies that other console manufacturers would shy away from.'
Renamed Verizon Media Studios (formerly Oath Inc) early in 2019, the renovation and new buildout to the facilities will serve all Verizon Media brands, including Yahoo Finance, Yahoo Sports, Huffpost, Yahoo News, RYOT, Engadget, Tech Crunch and Makers. It encompasses live broadcast and pre-tape studio content with shared resources across different locations. With DSI/Blade Media acting as the main contractor, the upgrade covers three studios; Control Room 1 and Control Room 3 are used for a daily eight-hour live Yahoo Finance broadcast and ancillary shoots, while Control Room 2 is a general-purpose studio for all other of Verizon brands. These have been equipped with three Lawo mc²36 consoles and a Nova37, accompanied by four Lawo A__mic8 microphone interfaces. The intention is to add two further A__mic8s in the near future.
With work begun in 2018, these studios are currently operational with Stage 2 of the project to follow, bringing additional live studio spaces into play.
Among the many benefits of the new installation that Brantigan identifies are scalability and customisation, alongside ability to work with new IP-based workflows while interfacing seamlessly with all legacy formats. 'Also, all our A1s love the ease of use and sound of the consoles in general,' he adds. 'Signal flow with Ravenna has been especially eye opening and is now a format I want to use as much as possible in the future.'
The mc²36 is designed for maximum ease-of-use and value-for-money, to extend the benefits of Lawo's audio expertise to a broader group of users than previously. With a comprehensive feature set that covers broadcast, theatre, house of worship, live and install applications, along with Lawo mic preamps, the mc²36 provides compact onboard DSP and I/O equally suited to permanent installations with limited space and to rental companies.
Nova37 is a compact 3RU audio router, with a fixed Ravenna/AES67 and Madi I/O configuration. It is perfectly suited to instant set-up of small-sized audio networks with a maximum of 1536x1536 crosspoints. In combination with mc²36 audio consoles and mc² Compact I/O stageboxes, the Nova37 represents a smart package for live performance, installed sound and houses of worship: In operation, it is just plug-and-play – connect consoles and I/O systems via Ravenna/AES67 or Madio, and the audio network is up and running, providing immediate access to all sources. Network user rights are easily managed from the console's touchscreen, using Lawo's one-touch rights management system. As an optional addition to its standard presets, the Nova 37 configuration is fully customisable to specific customer needs. As Nova37 uses inaudible fans, it can be placed anywhere in a setup.
'I went with Lawo because of the experience I had using them in the past,' Brantigan summarises. 'I was impressed with the sound of the consoles foremost, but getting deeper into the workflow possibilities the decision is being reinforced on a daily basis.'
More: www.lawo.com