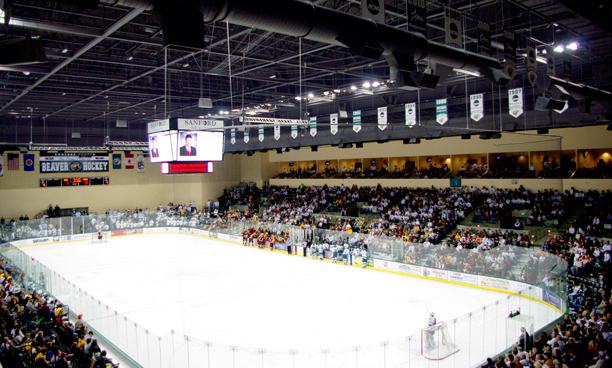 The Minnesota city of Bemidji is dubbed the curling capital of the US, and Bemidji natives have participated in the past two Winter Olympic Games. With ice hockey also held in high regard, it's unsurprising that the city has recently invested in a new event centre.
Opened in late 2010, the Bemidji Regional Event Center (BREC) is an 185,000 sq-ft multi-purpose facility that inclides an arena and exhibition space. The arena seats 4,700 for ice hockey but can accommodate up to 6,000 for concert events. The audio system in the BREC is based around Community Professional's iBox Series of loudspeakers, which was specified by John Miller, consultant for Austin-based BAi, LLC.
'We had previously installed Community at BSU's gymnasium and football field and we were really pleased with the results, so it was great to be able to put it in the home of BSU hockey,' says Ben Stowe, President of NLfx Professional, headquartered in Bemidji.
'Minnesotans take their hockey pretty seriously and when you have a team with the tradition and pedigree that BSU does you can count on especially ardent fans,' he continues. 'The games are well attended and the arena can get very loud, so the system has to be capable of some high SPL while maintaining clarity and intelligibility.' The convention center audio system is linked to the arena's sound system via CobraNet using QSC's Basis system. QSC amplification drives the system.
Stowe gives the iBox high marks for both performance and design aesthetics: 'Community iBox is exceptional for many applications, and sports facilities are at the top of my list,' he observes. The nice thing about the iBox is that all of the boxes were the same size and shape, regardless of how they were loaded and purposed. That allows for a clean, streamlined appearance throughout the project. It also made installation fast because all of the rigging materials were consistent, so the guys never had to worry about what parts they had in the lifts.'
The venue is the new home to the Division 1 Bemidji State University men's and women's hockey teams. Notable in their own right, the BSU hockey teams have produced over 55 All-Americans, clinched 13 national championships and post one of the best win-loss records in college hockey.