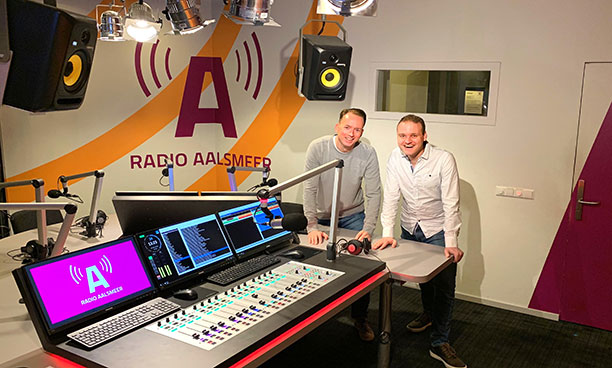 The community radio station for the town of Aalsmeer in the Netherlands, Radio Aalsmeer installed a new mixing console and virtual radio software solutions from Lawo in its on-air studio. The move to digital working now uses a 16-fader Lawo crystal surface powered by a Compact Engine.
Value played a large part in the selection of crystal, according to Lennart Bader and Niels Tenhagen, self-employed broadcast professionals who began their respective careers volunteering at Radio Aalsmeer. Funds for the renovation came from generous donations by Rabobank and Schiphol Airport, so a keen eye was kept on costs.
At the start of the project, Tenhagen and Bader visited trade shows like IBC, with the Lawo crystal quickly becaming their our favoured option. 'We love the clear design and quality engineering,' Tenhagen says. 'Literally every knob and button can be programmed.'
'We also felt the Lawo crystal offered the best value for money,' Bader adds.
Radio Aalsmeer's playout system and studio computers make use of Lawo Rǝlay VSC Virtual Sound Card software, which provides eight virtual soundcard instances for each Windows computer to allow direct exchange of audio between PC workstations and the Ravenna/AES67 studio network.
Another Lawo software product, Rǝlay VPB Virtual Patch Bay, provides the station's main switching matrix. 'VPB has turned out to be super versatile and even allowed us to add additional analog in- and outputs,' says Bader. 'Via the Ember+ protocol, we programmed a custom GPIO solution for tally lights and a multi-function color strip. Even our doorbell is Ember+ powered.'
'We are extremely proud of what we've achieved,' Tenhagen reflects. 'It is both very functional, and beautiful.'